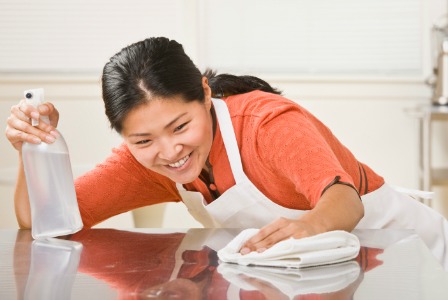 You cook and you eat in the kitchen. Keep it disinfected while you cook with these great tips.
Kitchen disinfection
Disinfecting wipes
Disinfecting wipes are a great commodity in the kitchen. Best for smaller messes and quick cleans, disinfecting wipes are super convenient to use while cooking. Use them to wipe down a variety of surfaces in your kitchen, including faucets, countertops and wood surfaces. Best of all, you can toss the wipes once you're done with it!
We love Clorox Disinfecting Wipes, which come in a variety of smells and are a steal from Walmart at $2.50 per container. Lemon scent is best for any kitchen area!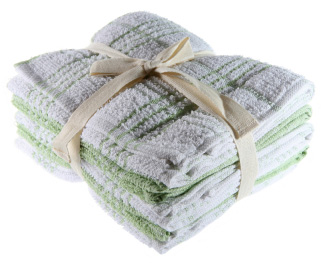 Cleaning rags
If you are looking to keep your kitchen area clean on a budget, use older rags or washcloths designated for kitchen clean-ups only. Choose a color scheme that matches your kitchen, but is opposite of bathroom washcloths to avoid any confusion. Prior to cooking, pull a rag out, wet with hot soap and water and utilize it to wipe down countertops. Wipe down messes once you are done with the area and rinse with warm water for future usage.
Cleaning solution
With concerns of salmonella and other bacteria-like infections, many worry about keeping their kitchen free of germs while cooking. Choose a cleaner that you feel will keep your kitchen at its best while you cook. Since you are cleaning and cooking, it would be a safe bet to choose a cleaner that is safe around your food. Look into organic cleaners that are free of cancer-causing agents and other forms of toxic chemicals. If you can't find one that you prefer, make your own with this helpful Aparment Therapy article!
Floor frenzy
The biggest mess that can come from cooking is the mess at your feet. A combination of small spills, drops and misses can leave your floor a mess. Keep your floor clean by doing an occasional sweep. After tossing ingredients in the pot, do a quick Swiffer of the floor. Doing small clean ups while cooking will avoid any sticky situations you may find your toes in later.
Decor tip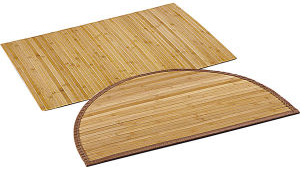 Choose a bamboo rug for your kitchen for easy clean up. This half round bamboo mat by Catalog Favorites is perfect for any kitchen décor and is greatly priced at $20..
More dinner ideas
10 Ingredients for a quick meal
Quick dinners for working moms
30-Minute meal options