Serve with soup
and it's a meal deal
We turned up the heat with this grilled cheese, adding classic ingredients like pickles, tomatoes and crunchy potato chips. This is the perfect sandwich for game day, a kid's birthday party or a quick lunch.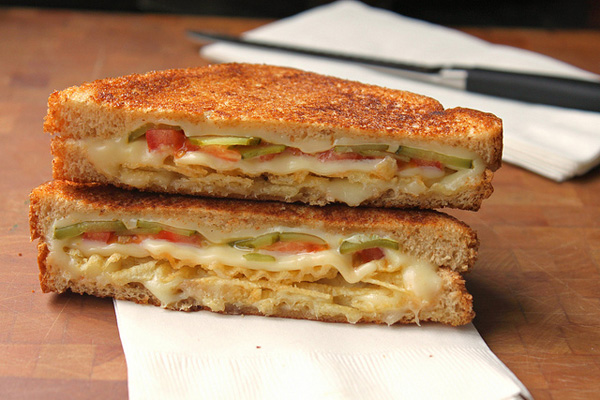 We used classic ridged potato chips in this sandwich, but any old chip will do! The crunch of the chip with the hot melted cheese is a match made in heaven. And don't worry, the chips don't get soggy!
Grilled cheese with tomato, pickles and potato chips
Serves 1
Ingredients:
2 pieces bread
3 slices American cheese
Thinly sliced pickles, dabbed dry
1 thin slice tomato
Good handful of potato chips (Ridged chips work best)
1 tablespoon butter
Directions:
Assemble sandwich bottom to top: one slice of bread, one slice of cheese, pickles, tomato slice, second slice of cheese, chips, last slice of cheese and top with slice of bread.
Heat one-half tablespoon of butter in a pan over medium heat, once bubbling carefully add your sandwich.
Lightly press the sandwich down with a spatula or pot lid just to apply a little pressure to the sandwich.
After about three or four minutes, lift sandwich up, add the other one-half tablespoon of butter and flip the sandwich to grill the other side. (At this point you may want to turn the heat to low; you don't want the sandwich to cook too quickly because you need the cheese to melt.)
Again, apply light pressure to the sandwich.
After another three or four minutes or so, turn off the heat. (If cheese still isn't totally melted, allow the sandwich to sit in the pan covered for a few more minutes.)
Slice with a serrated knife and enjoy!
More grilled cheese sandwiches
3 Grilled cheese sandwich recipes
Essentials for great grilled cheese sandwiches
Get fruity with your grilled cheese