Eggs-cellent
brunch idea
This is the perfect make-ahead dish for holiday guests! Breakfast, brunch, lunch or dinner, make this crustless quiche once, and you'll find yourself making it again and again!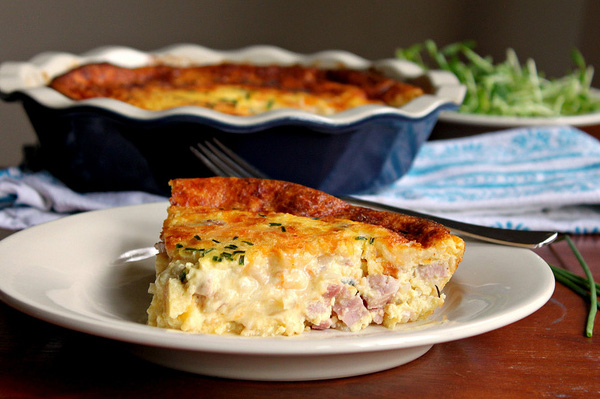 Just about any fillings would do in this quiche, so feel free to use your favorite meat, cheese or vegetables. Making it a day in advance allows the quiche to set and the flavors to intensify.
So, is there such a thing as a crustless quiche? Many purists out there would quickly and assertively respond, "No!" That said, this crustless version of a quiche not only cuts down on the carbs, but it's quick and simple to prepare.
Ham, cheese and onion quiche
Ingredients:
3 tablespoons fine, dry, plain breadcrumbs
1 medium onion, diced
1-1/2 to 2 cups diced cooked ham
1 tablespoon unsalted butter
1 (8-ounce) package shredded cheese of your choice — cheddar, Swiss, etc.
5 large eggs
1 cup heavy cream
1 cup whole milk (or milk on hand, but whole is best)
1/2 teaspoon pepper
2-3 grates fresh nutmeg (optional)
Fresh chives on top (optional)
Directions:
Preheat oven to 400 degrees F with rack in middle.
Butter quiche dish, then sprinkle all over with breadcrumbs.
Create a prefitted foil top (in case of overbrowning).
Cook onions with ham in butter (not oil) in a 12-inch heavy skillet over medium-high heat, stirring occasionally, until pale golden, about five to eight minutes. Spread in dish over breadcrumbs, then evenly sprinkle cheese on top.
Whisk together eggs, cream, milk and pepper and pour over cheese. Sprinkle top with chives and nutmeg, if using.
Bake until top is golden and custard is set in center, 20 to 25 minutes. If it's overbrowning on top and the center still in not set, loosely cover with the prefitted foil and place back into the oven for five to eight minutes or so.
Cool slightly before cutting into wedges.
Note: If you want to reheat the quiche, do so with foil on top at 350 degrees F for about 10 minutes or until it's hot. Always let it sit a bit before cutting.
When cutting into the quiche, if the center looks a little runny you can place it back into the oven for a few minutes, but remember that it might be attributed to the two cups of melted cheese.
More quiche recipes
Mediterranean quiche recipe
Sweet potato and caramelized onion quiche
Creamy quiche lorraine