Dip me!
Who knew ravioli could be served as an appetizer? It can be in this awe-inspiring deep-fried starter.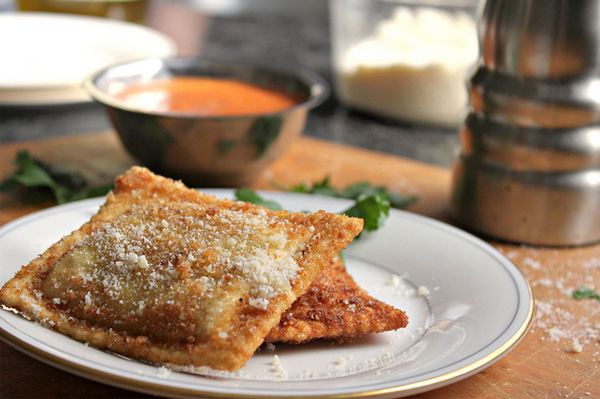 Fried lobster ravioli with red pepper cream sauce
Ingredients:
1 package frozen lobster ravioli
1 (12 ounce) jar roasted red peppers, drained
1/2 cup toasted walnuts
1/2 cup grated Parmesan cheese
1/2 cup whipping cream
1/4 cup olive oil
1 tablespoon minced garlic, sauteed
1 cup milk
1-1/2 tablespoons lemon juice
Breadcrumbs
Directions:
Parboil frozen lobster raviolis for eight minutes. While they cook, begin making red pepper cream sauce.
In a food processor, mix roasted red peppers, walnuts, Parmesan cheese, olive oil and garlic until finely chopped.
Transfer red pepper mixture into a large bowl and stir in whipping cream with salt and pepper to taste. Heat sauce on the stove, be careful not to boil. When heated, set aside.
In a separate bowl, make homemade buttermilk by mixing the milk and lemon juice and let it sit for 15 minutes.
When done boiling, drain the raviolis, dab dry with a paper towel, dip them in the buttermilk, then coat them in breadcrumbs.
Fry the coated raviolis on medium-high heat in 320 degree F olive oil for about one and one-half minutes on both sides.
Allow them to sit for a few minutes to set, and sprinkle with cheese.
Dip in roasted red pepper cream sauce.
More seafood ideas
Grilled oysters with herbed garlic butter
Seafood stew recipe
Grilled shrimp kabobs