Get grilled
The smoked Gouda, ham and thinly sliced apple in this grilled sandwich are the perfect combination of flavors and textures! A fabulous fall lunch.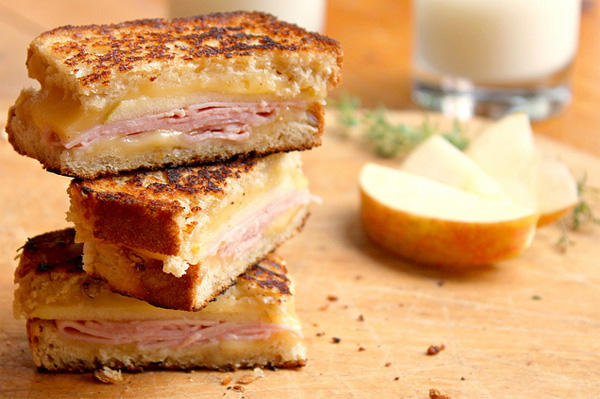 Smoky, sweet and rich, this gourmet grilled cheese will please even the pickiest of eaters.
Smoked Gouda, ham and apple grilled cheese
Serves 1
Ingredients:
2 pieces bread
Approximately 4 thick slices smoked Gouda
4-6 slices country smoked ham
1/4 apple, thinly sliced
2 tablespoons butter
Directions:
Heat one tablespoon butter in pan on medium-low heat.
Add one slice of bread to the pan and top with two slices of the cheese, all of the ham and apples and then top with the additional cheese and the other slice of bread.
After about three or four minutes, pick the sandwich up with a spatula and melt the remaining one tablespoon of butter.
Flip the sandwich over to grill the other side. Check after about three or four minutes to make sure it's not overbrowning.
Flip again and cover with a large lid until the cheese is melted and the sandwich is warm throughout, about two more minutes.
More grilled cheese sandwiches
3 Grilled cheese sandwich recipes
Essentials for great grilled cheese sandwiches
Get fruity with your grilled cheese