Cheesy, melted goodness with a twist
A grilled cheese sandwich with serious flavor! The man in your life will fall in love with you all over again after trying this masterpiece.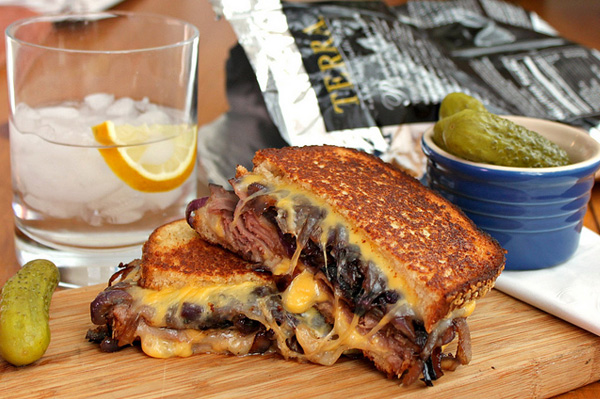 Everyone is obsessed with food porn these days. With this recipe, it's something about the sound of the onions sizzling in hot, bubbling butter, rendering down to their sweet, earthy goodness.
Roast beef and caramelized onion grilled cheese
Serves 1
Ingredients:
1 red onion
 2 tablespoons butter, divided
1/4-pound roast beef slices
2 slices hearty bread (we like oat nut)
5 slices of your favorite cheese (we used provolone and American cheese)
Directions:
Slice a red onion into one-quarter-inch rings.
Add one tablespoon butter to a pan over medium heat. Caramelize your onions until soft, fragrant and beginning to char, about 10-15 minutes.
Once the onions are finished, turn off the heat and move them to one side of the pan. Add roast beef slices to the other side, just to warm them up a bit.
Liberally butter both pieces of a nice hearty bread.
Heat a separate pan over medium heat and place one slice of bread buttered side down.
Immediately add two slices of cheese. (Shown here, a combination of provolone and American.)
Top with warmed roast beef, desired amount of caramelized red onion (about one-quarter cup) and another three slices of cheese.
Place the other piece of bread on top (butter side up).
After about four minutes, check the bottom piece of bread by lifting the corner with a spatula. If browned to your liking, carefully flip and grill the other side, about four or five minutes. (You may want to cover the pan to help promote cheese melting.)
Note: You can eat immediately or you can keep it warm in a 200 degree F oven for a few minutes until ready to eat or serve.
More grilled cheese sandwiches
3 Grilled cheese sandwich recipes
Essentials for great grilled cheese sandwiches
Get fruity with your grilled cheese