A new twist
on the calzone
Have a little fun with these cheesy pepperoni sandwiches.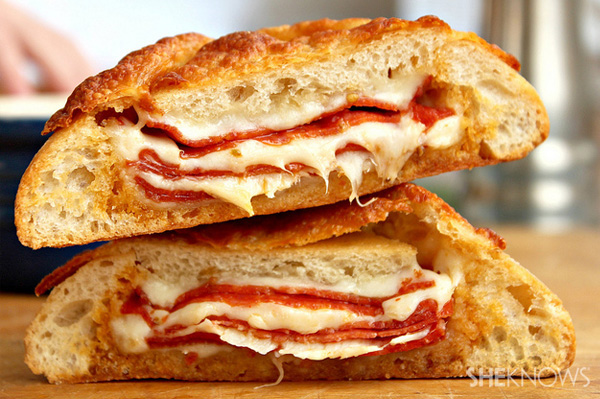 Is it pizza? Is it a sandwich? Is it a calzone? All of the above!
Pepperoni & cheese stuffed ciabatta
Ingredients:
1 piece ciabatta
8 slices provolone cheese
8 sliced pepperoni
Directions:
Preheat oven to 375 degrees F.
Take a piece of ciabatta, cut a hole in the top and dig out the inside of the bread. (Save the crumbs for homemade breadcrumbs.)
Stuff the bread with layers of provolone cheese and sliced pepperoni, pressing down on each layer as you build — you want it to be dense.
When you reach close to the top, place the piece of bread you cut off, back onto the bread. Place a slice of provolone cheese over the top of the entire sandwich, place it in a pan, cover with foil and bake for about 12 minutes.
Slice diagonally with a serrated knife and enjoy!
More pepperoni recipes
Spaghetti pepperoni pie
No-bake pepperoni pizza
Homemade calzones