A classic combination
A delicious no-bake treat using the beloved combination of chocolate and peanut butter. What's not to love?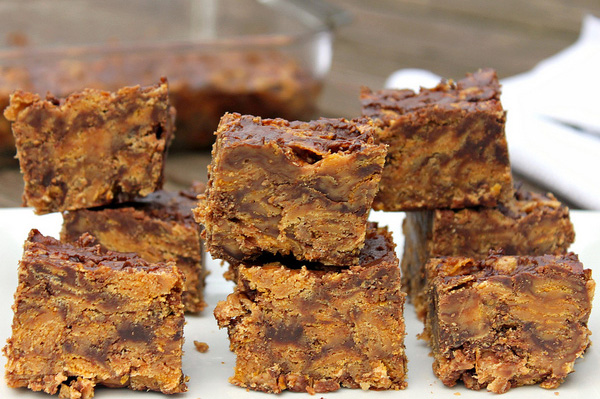 If you don't bake but are craving home-baked goodness, these are the bars for you!
Crunchy no-bake peanut butter chocolate chip bars
Ingredients:
1 cup light corn syrup
1/4 cup sugar
2 cups creamy peanut butter
5 cups corn flakes
1 cup chocolate chips
Directions:
Place corn flakes into a large bowl. Set aside.
In a medium saucepan, heat syrup and sugar, stirring constantly, until the mixture begins to boil and the sugar is dissolved.
Remove from the heat and stir in the peanut butter. Mix well.
Pour your syrup, sugar, peanut butter mixture over the corn flakes and fold together well.
Fold in your chocolate chips.
Lightly spray an 8 x 8-inch glass pan with cooking spray. Spoon your corn flake mixture into the prepared pan, pressing down to flatten the top.
Cover with plastic wrap and place in the refrigerator to cool and set, about one hour. Enjoy!
More sweet treats
Mini coconut cream tarts
Pumpkin spice granola and yogurt parfaits
Mason jar pumpkin cupcakes