Eggplant haters will convert after this
A healthier version of fried eggplant. Be sure to slice your eggplant thinly to ensure a delicious crunch.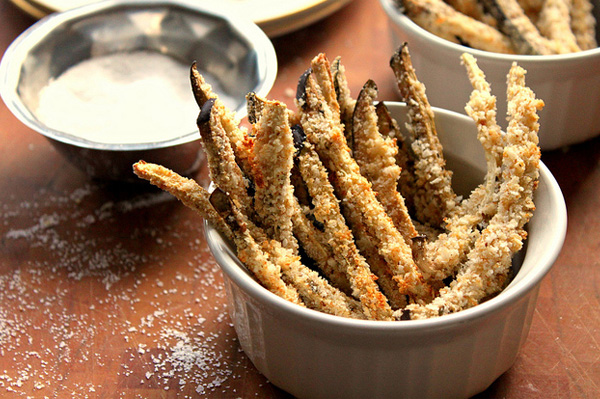 Eggplant fries are a healthy alternative to french fries, and even your kids will love them!
Oven-baked eggplant fries
Ingredients:
2 baby eggplants
2 egg whites
2 cups panko
1 cup plain breadcrumbs
2 teaspoons garlic powder
Pinch of cayenne pepper
Kosher salt
Directions:
Preheat oven to 400 degrees F.
Line a cookie sheet with parchment paper.
Slice your eggplant into very thin strips.
Whisk two egg whites in a medium-large bowl.
Add panko, breadcrumbs, garlic powder and cayenne pepper to a zip-closed bag and shake.
Place a handful of your raw eggplant fries into the bowl with the egg whites and coat well.
Place egg white coated eggplant fries into the panko/breadcrumb mixture and shake all around to coat the fries with the mixture.
Place your coated eggplant fries onto your pan (not overlapping) and cook about 10-12 minutes, or until browned and crispy.
Once out of the oven, sprinkle with kosher salt.
Serve immediately with your favorite dipping sauce!
More great recipes
Potato leek soup
Roasted chicken: rethink simplicity
Mashed butternut squash with crispy bacon and shallot