Easy meal for breakfast, lunch or dinner
Try this fun Mexican dish that can be enjoyed for breakfast, lunch or dinner.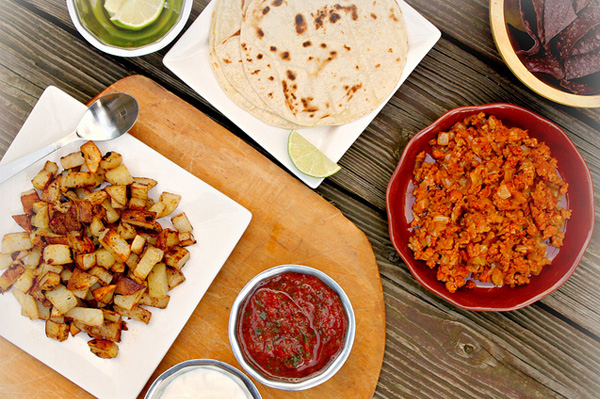 Don't allow the long instructions for preparing this meal throw you off. It's a simple midweek dinner idea that, with just a little prep work, comes together in a flash.
Chorizo and potato soft tacos with homemade salsa
Ingredients:
6-8 flour or corn tortillas
Dollop of sour cream
A few shakes of Tabasco sauce
1 large potato, cubed
1 onion, diced
1 large tomato, diced
3 tablespoons cilantro
2-3 links chorizo (Mexican sausage), uncased
Directions:
Preheat oven to 400 degrees F.
Place your diced tomatoes in a bowl, add the cilantro and a hefty few shakes of Tabasco, and salt and pepper to taste. Set aside.
In a cast iron skillet, cook the chorizo, breaking it up into small pieces with a spatula. When completely cooked through, remove the chorizo from the pan and set aside.
Add your diced onion to the same pan and saute until soft and translucent, about six or seven minutes. Remove onion from the pan and add it to the chorizo.
Add your cubed potatoes to the same pan and cook them until they begin to brown and get crispy.
Place the entire pan in the oven and continue cooking about five minutes; until the potatoes are cooked entirely and are crispy on the outside and soft in the center.
Remove the potatoes from the pan, salt and pepper to taste and place on a serving tray. Now reheat your chorizo and onions, if necessary.
Heat flour or corn tortillas according to package directions. Stuff each tortilla with chorizo, onion, potatoes, salsa and sour cream. Serve chips on the side.
More related links
Chorizo, lentil and tomato soup
Turkey chorizo chili recipe
Brussels sprouts and chorizo