No more store-bought rotisserie
You may never buy a store-made rotisserie chicken again. Control your ingredients, and an hour later you'll have a perfectly-cooked bird you'll be proud to serve your family or guests.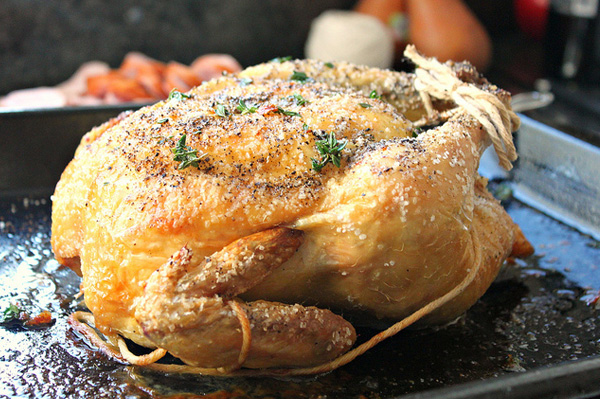 The easiest roast chicken you'll ever make... it's unbelievably moist and delicious!
Roasted chicken
Recipe adapted from Thomas Keller's, Bouchon.
Ingredients:
3 pound chicken
1-1/2 teaspoons kosher salt
1 teaspoon fresh cracked black pepper
Fresh thyme
Roasting pan
Kitchen twine (optional)
Directions:
Take your chicken, rinse it, pat it dry with paper towels, place in a roasting pan and truss if you have kitchen twine.
Preheat oven to 450 degrees F. If you have a convection oven, set it to pure convection.
Take kosher salt and fresh cracked black pepper and sprinkle all over the dry bird.
Place your bird into your preheated oven and roast for 45-50 minutes. Do not open the oven or baste the chicken while cooking — hands off!
Remove it from the oven, take a handful of fresh thyme and place it into the pan with the drippings from the chicken. Whisk around and spoon on top of the bird.
Let that chicken rest for 15 minutes to retain its juices!
After 15 minutes, pull the leg away from the bird. Super moist and delicious inside, super crispy and flavorful skin outside!
More roast chicken recipes
Chicken roasted in beer
Asian roast chicken recipe
Honey and rosemary roast chicken recipe