Served hot or cold,
it's delicious
Have leftover chicken? Try this flavorful curried chicken salad. Fabulous on its own or piled high atop a piece of naan or hearty country bread!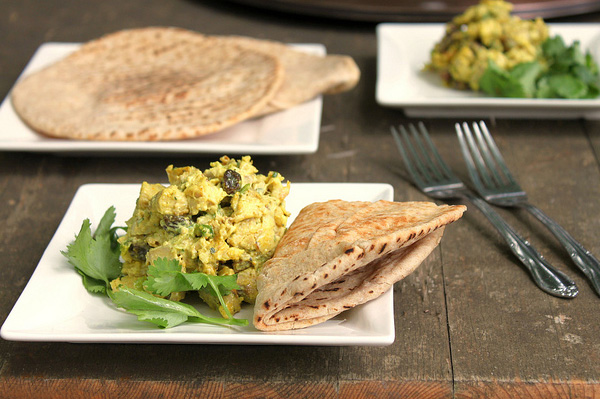 An easy way to use up that leftover chicken, this curried chicken salad was made with grilled boneless, skinless chicken thighs that had marinated in a bit of olive oil and lots of fresh herbs.
Thigh meat works well in a curried chicken salad as the rich, dark meat of the thigh pairs well with the complexity of curry powder. Raisins, almonds, celery, scallion, a touch of lemon and herbs completes the dish. This one is even better the next day.
Curried chicken salad
Ingredients:
3 large boneless, skinless chicken thighs, cooked and cooled (ours was grilled and herb rubbed)
1/4 to 1/2 cup mayonnaise
1/4 cup plain yogurt
1 teaspoon curry powder
1/2 teaspoon turmeric powder
1/2 teaspoon hot paprika (optional, but it adds a slight kick)
1/3 cup celery, finely diced
1/4 cup scallion, chopped
2 tablespoons cilantro, chopped
1 tablespoon fresh lemon juice
A handful of raisins
A small handful of sliced almonds
Kosher salt and pepper to taste
Directions:
Chop up your chicken into bite-size pieces.
In a medium bowl, mix together mayonnaise, yogurt, curry powder, turmeric powder, paprika, celery, scallion, cilantro and lemon juice.
Fold your chicken into the mayonnaise-yogurt mixture.
Add your raisins and almonds and salt and pepper to taste.
Try it cold the next day!
More chicken salad recipes
Mango chicken salad in avocado boats
Chicken salad three ways
Farm stand chicken salad recipe