Soup for you!
A warm and comforting hearty soup that's simple to prepare. Don't forget the crusty bread for dipping!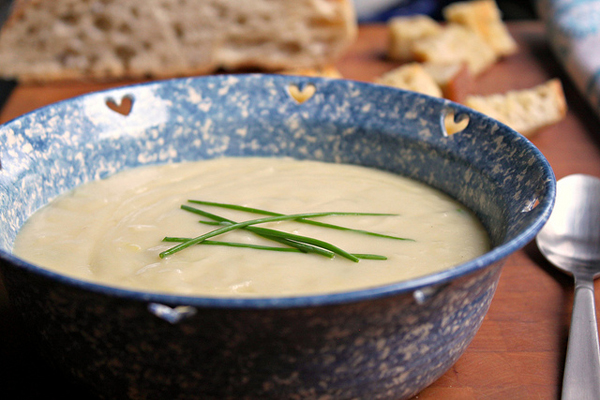 Fine. So she won't win any beauty pageants, but she sure is nice and comforting... like a Snuggie.
Potato leek soup
Ingredients:
2 tablespoons butter
2 large leeks, whites and pale green parts only, sliced and rinsed well
4 large Idaho potatoes, peeled and diced into cubes
4 cups chicken stock
1/2 cup heavy cream
Salt and pepper to taste (I used white pepper)
2 teaspoons white truffle oil (optional)
Fresh chives for garnish (optional)
Directions:
In a large pot with a lid, melt down your butter and add your leeks. Saute leeks until soft, about eight minutes.
Add potatoes and stir together well. Add stock and bring to a boil. Once boiling, turn down heat to a simmer and cover pot.
Continue cooking for 20-30 minutes (until potatoes are tender).
Carefully blend soup in the blender (or use an emulsion blender) and puree to a desired consistency. Stir in the cream, salt and pepper to taste.
If using white truffle oil, stir it in at the very end before serving. Garnish with fresh chives and serve with homemade croutons or crusty bread.
More recipes
Chorizo and potato soft tacos
Grilled skirt steak with Thai sauce and Thai basil
Roast beef and onion grilled cheese