Surprising Uses
For Sour Milk
The milk's gone sour! But there's no need to throw it out. Surprisingly, there are many uses for spoiled milk that don't involve pouring it down the drain.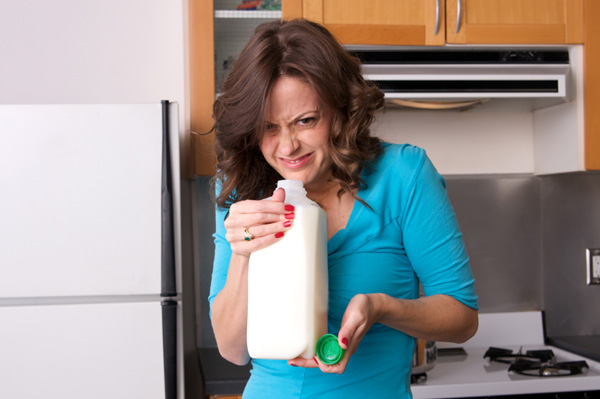 Warning:  Don't consume milk if it's curdled because of age. This can make you very sick. Sour milk will not be curdled and is OK to consume.
Typically, milk goes sour about three days after the expiration date. If unopened, it can last up to two weeks past the expiration date. Sour milk has many uses that you may find helpful, and you'll no longer feel the need to rush to consume it all before it expires.
Make cheese
The first thing that comes to mind regarding uses for soured milk is making cheese. After all, the main ingredient in cheese is milk that's gone bad. You can make cottage cheese by cooking sour milk in a double boiler over simmering water until it begins to whey (watery part of milk separates from the curd, or cheese). Strain it through a napkin to remove excess milk and add in some cream, salt and pepper to taste. You can also make regular cheese by lining a colander with cheesecloth and pouring in curdled milk. Gather it into a bundle and hang in the fridge over a bowl. Once it stops dripping, the cheese is done. Enjoy with crackers and wine!
Bake with it
Sour milk is a common ingredient in many pancake, cake and waffle recipes. Once it's cooked, you can't tell that sour milk was used, and it's an easy (and delicious) way to use it instead of having it go to waste. Check out this recipe for lemon bundt cake or this one for a Coca-Cola cake. Note that you can also make your own sour milk by adding vinegar or lemon juice to fresh milk.
Other uses
Though sour milk can be delicious in baked goods, desserts (think custards and cheesecakes), eggs and casseroles, there are many other uses for it that don't involve food.
Beauty. Sour milk is a common ingredient in facial masks. It's great for the skin — making it smoother and giving it a more even, consistent color. Place sour milk all over the face, let sit, then rinse off with milk (strange, I know), followed by a final rinsing of water.
Pets. Use sour milk for pet food — make dog or cat biscuits or feed it to hens once it's curdled (you can sit it outside in the sun to speed up this process).
Home and garden. Pour it around plants to keep deer away, put it at the base of rosebushes to help them grow or even pour sour milk over silver and let sit overnight to make it shine.
As you can see, there are many uses for milk that has spoiled, so next time think twice before pouring it down the drain!
In a pickle? More kitchen problems solved
What to do if you stain your clothing while cooking
What to do with overripe bananas
How to make a flavorless dish flavorful