Perfect Game Day food!
Who doesn't love sliders? Replace the beef with ground chicken, and you'll cut down on fat and calories. A perfect midweek meal or game day snack the whole family will love!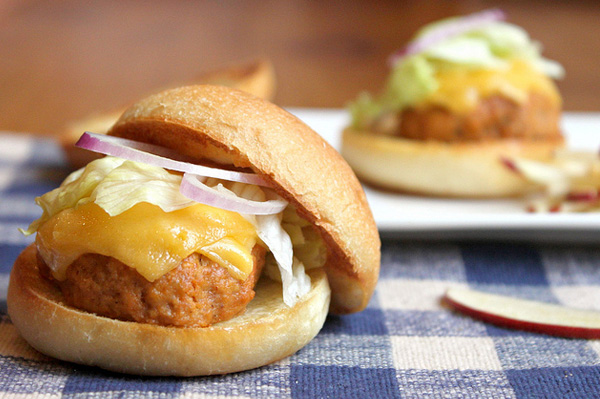 This is an easy, delicious and affordable meal the whole family can enjoy! We top these chicken and cheese sliders with just a touch of lettuce and red onion. The kids love them topped with thinly sliced apples. The sky's the limit when it comes to slider toppings!
Easy barbecue chicken sliders
Ingredients:
2 pounds ground chicken
1 cup of your favorite barbecue Sauce (I used Stubbs Original)
1 cup grated Parmesan cheese
1 egg
Slider rolls or small dinner rolls (we like to butter or mayonnaise both sides and place under the broiler until just crispy around the edges — but this is optional)
Favorite cheese and toppings: Lettuce, tomato, pickles, red onion, jalapenos, apple slices, etc.
Directions:
Preheat oven to 375 degrees F and spray a large roasting pan (with sides) with cooking spray.
In a large bowl, add your ground chicken, barbecue sauce, Parmesan cheese and egg and mix together until all ingredients are well incorporated.
Form your chicken mixture into slider-sized patties (they will feel a bit loose but that's OK, they don't fall apart when cooking) and place them in your prepared roasting pan.
Cook them in the oven, uncovered for about 18 minutes (no need to flip).
Remove from the oven and carefully discard any liquid that formed in the pan.
Heat a skillet (I think cast iron works best) over medium-high heat and then finish cooking your chicken burgers by searing on both sides about two minutes* per side.
Top with cheese, cover pan with a lid and turn off the heat. Let sit until cheese has melted, about three minutes.
*To ensure your chicken is cooked through, the inside middle of the burgers should be at an internal temperature of about 170 degrees F.
More recipes
Roast beef and caramelized onion grilled cheese
Pepperoni and cheese stuffed ciabatta
Chorizo and potato soft tacos