Perfect appetizer,
side dish or snack!
The Italian dressing bakes into these potatoes giving them a subtle flavor — perfect for enjoying french fry-style or as a welcome side to chicken, beef or fish.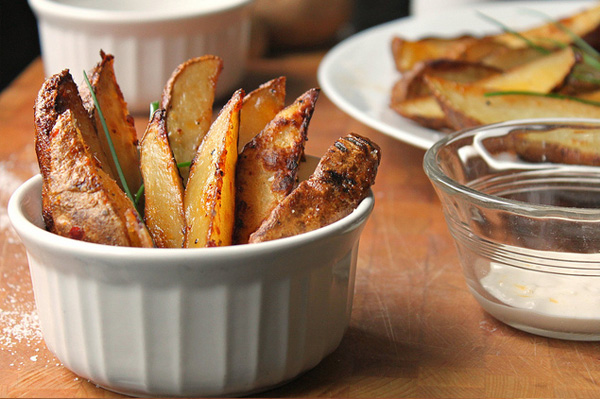 This is a fun and simple way to add a touch of flavor to baked potato wedges.
Baked potato wedges with Italian dressing
Ingredients:
4 large russet potatoes
3/4 cup Italian salad dressing, divided
Directions:
Line a baking sheet (with sides) with aluminum foil.
Preheat oven to 375 degrees F.
Slice your potatoes into wedges (about six to eight slices per potato).
Drizzle the foil with one-half cup of your favorite Italian salad dressing.
Place your potatoes into the pan, toss around to coat with the dressing.
Arrange potato wedges in a single layer not overlapping.
Pour an additional one-quarter cup dressing over top of the potato wedges.
Place in the oven for 20 minutes. After 20 minutes turn up heat to 425 degrees F and cook an additional 10 minutes or until fork tender and crisping.
Using a spatula, carefully remove potato wedges from the pan and sprinkle with kosher or sea salt.
Garnish with fresh chives if desired.
Quick tip
Delicious plain or why not serve with any of the following:  French onion dip, hot cheese dip, ranch, blue cheese dip, chimichurri sauce or good old-fashioned ketchup .
More recipes
Simple scalloped potatoes
Oven-baked eggplant fries
Potato leek soup