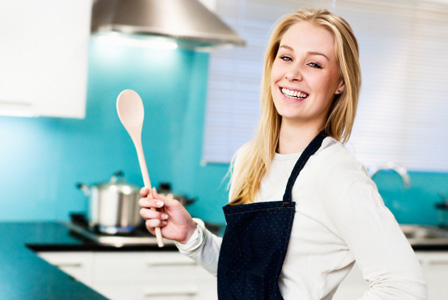 As tastes change over the decades, the tools and accessories that are helpful in preparing recipes change as well. Here are some of the must-haves for your well-outfitted kitchen.
Cook like a pro
1
Saucepan with a little lip
Buying the best pans you can afford is essential, but most manufacturers leave lipped saucepans out of their sets -- if they actually make them.
Whether it is bechamel, soubise or bercy, a good pan is necessary for saucy success. If the pan is too light, your sauce can scorch -- too heavy and it's hard to move quickly. You need something that conducts heat evenly and preferably has a lip so that you can move the sauce to another container easily and without mess. The Circulon Contempo Red saucepan has all of that plus a bright, cheery color and a food release system that really works.
Oven and dishwasher safe? Yes, please.
Wooden cooking spoons are essential because they don't conduct heat. They won't heat up and curdle a delicate sauce or burn your hand if you leave them in a simmering pot. Wood is gentle on your hands, your nonstick cookware and your budget. Plus, here's a little known fact -- metal spoons can sometimes react with acidic ingredients and leave an off taste in your food.
Always wash wooden spoons by hand. Once a month, you should condition your spoons by rubbing them with olive oil and letting them sit overnight, wiping the excess oil off in the morning.
Tell us
What are your must-have cooking tools and accessories? Leave a comment and let us know.
More kitchen tools
The latest and greatest grilling gadgets
Cooking 101: Basic cooking tools
5 Tools for a more efficient kitchen