Make it a fiesta!
A favorite with my family, this cheesy Mexican dish makes a wonderful side dish, but is perfectly suitable to star as the main course!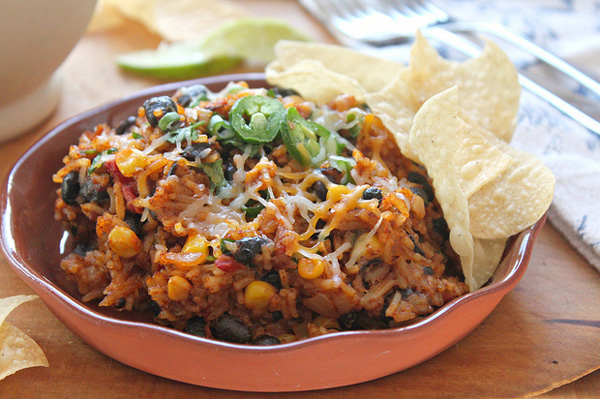 Whether you make this as the main course or as a side dish to your favorite Mexican meal, this recipe yields a ton. You'll have plenty of leftovers to make something creative the next day, like chicken burritos or enchiladas.
Cheesy Mexican rice and black beans
Serves 6
Ingredients:
1 cup white rice, cooked according to package instructions (I use Trader Joe's Organic Basmati and use the "firmer" rice instructions on the package... you don't want your rice mushy!)
2-3 tablespoons olive oil
1 large onion, diced
4 cloves garlic, finely chopped
1 jalapeno pepper, finely diced (I roasted mine in a cast iron skillet and removed the skin first. I also included all seeds for heat... (*the roasting is optional, if not, leave raw)
1 cup corn (frozen or fresh)
2 tablespoons chili powder (I used dark chili powder)
2 teaspoons cumin
1 (15 ounce) can black beans, drained and rinsed well
1 (10 ounce) can diced tomatoes and green chilies, drained of the juice
2 cups shredded cheddar or Monterey Jack cheese (plus more for melting on top)
Chopped cilantro, chopped green onion, sour cream and avocado for garnish
Directions:
In a large pan, heat olive oil over medium heat. Add your onion and saute up until soft and translucent, about five minutes. Add your garlic and continue sauteing another two minutes. Add your jalapeno pepper if using. Add corn and stir well. Add chili powder and cumin and stir together to coat all ingredients with the spices.
Add beans and can of tomatoes and green chilies. Stir together well. Add your prepared rice and fold together to incorporate all ingredients.
Stir in cheese and mix until melted. Sprinkle in salt and pepper to taste, if needed. Sprinkle remaining cheese on top and cover.
Serve with some or all of the following: Chopped cilantro, scallion, sour cream, avocado slices and chips.
More recipes
Roasted chicken: Rethink simplicity
Easy BBQ chicken sliders
Simple scalloped potatoes