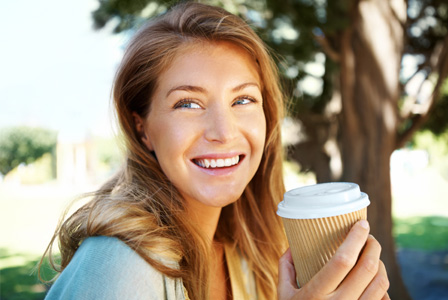 National Coffee Day is Saturday, Sept. 29. Do you know where to get your free coffee?
Who wants free coffee?
If you start each morning off with a cup of steaming hot coffee, then you'll want to celebrate National Coffee Day on Saturday, Sept. 29. And there's no better way to celebrate than with free coffee, since your daily cup might be hurting your wallet.
Costly addiction
It's no surprise to hear that we're slightly addicted to coffee, but what is surprising is the staggering cost of this habit. A recent survey by Nescafé Memento shows that Americans are spending an average of $36 a month on specialty coffee drinks. Do the math — that's $432 a year! What's even more shocking is that 92 percent of the people buying the drinks believe that they're overpriced, which begs the question: Are we all gluttons for punishment? Aside from the cost, a whole lot of our time goes into waiting in line for coffee. At seven minutes per day, we're wasting almost two days per year to get our hands on that pricey cup of joe!
Freebies and deals
Give your pocketbook a break by taking advantage of these deals in celebration of National Coffee Day.
7-Eleven is getting a jump on the festivities a day early by offering a free large-size cup of hot coffee, latte, cappuccino or tea on Sept. 28 from 6 a.m. to 10 a.m. at participating locations.
By "liking" Tim Hortons on Facebook, you can print a coupon for a buy one, get one free coffee offer valid on Sept. 29.
McDonald's has declared the entire week a celebration and participating locations are offering customers a free small hot coffee every day from Sept. 23-29. (While this promotion only appears to be offered at East Coast locations, it doesn't hurt to ask when you stop by your local restaurant.)
Visit Krispy Kreme for a free 12-ounce coffee on Sept. 29, but don't forget to enter now to win a year's supply of free coffee. Seventy-five winners will get two free bags of coffee every month for an entire year.
At Kangaroo Express you only have to pony up a penny for a 12-ounce coffee from 8 a.m. to noon on Sept. 29.
Make it yourself
Instead of going out for coffee, you can make coffeehouse-quality beverages in your own kitchen. Next time a caffeine craving strikes, save a few bucks and try this easy recipe for frozen coffee instead.
Cinnamon dolce frozen coffee
Serves 2
Ingredients:
1/2 cup cold-brewed coffee concentrate
2 cups half-and-half or milk of your choice
2 tablespoons sugar
1 or 2 tablespoons cinnamon sugar syrup
1-1/2 or 2 cups ice or coffee ice cubes
Whipped topping
More on coffee
Cooking with coffee
3 Baileys and coffee recipes
The high price of K-Cup coffee
More From SheKnows Explorer