One of our favorite celebrity chefs, Bobby Flay, loves Greek yogurt so much, he dives his spoon into it daily and even uses it in his critically-acclaimed restaurants. The award-winning cookbook author and television personality has taken a particular liking to FAGE Total Greek Yogurt and wants to spread the word on how this dairy superfood can be used as an integral ingredient in everyday meals.
Why eat Greek yogurt?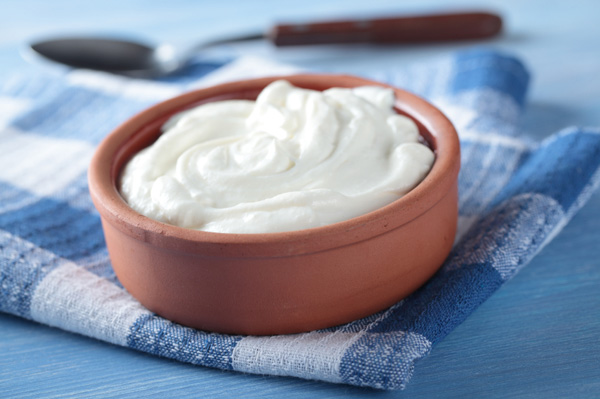 Thicker than traditional yogurt, Greek yogurt is not only richer and creamier, it is also loaded with more health benefits. High in calcium, protein and probiotics, Greek yogurt is a no-brainer as a good-for-you food. If you're watching your weight but regularly wrestle with a sweet tooth, simply swirl yogurt with honey or fresh ripe fruit to treat yourself to a diet-friendly dessert. Flay reaches for Greek yogurt because of its nutritious qualities and because it just tastes good.
"The primary reason I like Greek yogurt is because it's healthy," says Flay, who has slowly lost 15 pounds over the last few years and attributes his weight loss success to healthier choices. "Also, it just tastes really good — and I don't eat anything I don't like."
In addition to being a healthy great-tasting food, Greek yogurt can be incorporated into both sweet and savory recipes. Flay uses Greek yogurt in a wide range of dishes, including breakfast, entrees, desserts and more. "I was eating it for breakfast but found that it worked well in other dishes and eventually I took it into my restaurants because it has a nice tang and adds complexity to recipes," he adds.
Flay's ways to use Greek yogurt in everyday recipes
1
Start with easy recipes
Instead of trying to incorporate Greek yogurt into every single meal, Flay suggests starting with easier recipes. "The best way to bring it into your cooking is by starting with easy things, like a sauce," he explains. "For example, I make a great yogurt sauce by adding pomegranate molasses, fresh mint and honey to Greek yogurt, swirling it to create a marbled effect and then adding some toasted almonds for crunch." Flay partners this sauce with his Spice Rubbed Lamb Tenderloin recipe but recommends pairing it with chicken, pork and fish, too.
Flay is a fan of yogurt smoothies, which fall under the easy recipe category. "I am a huge fan of smoothies, especially ones with fruit. One of my favorite smoothie combinations is bananas, berries, yogurt and ice," says Flay. He and his wife, the stunningly gorgeous actress Stephanie March, drink smoothies as a post-workout drink. "We work out a lot then grab a yogurt smoothie or yogurt and fresh fruit because eating yogurt just feels good after a hard workout."
3
Fruit and yogurt is
always a winner
Flay admits to eating Greek yogurt at least six days a week. He especially likes it with artisan honey and fruit. Combining calcium- and protein-rich dairy with high-antioxidant fruit gives you a quick and easy power breakfast as well as a fast healthy afternoon snack.
Traditionally made with chickpeas, garlic, tahini, and olive oil, hummus is inherently healthy. Flay adds Greek yogurt to make it even more nutrient-dense and delicious. "In my hummus recipe, half of the chickpeas are crushed, not pureed, which gives the dish a contrast of textures. I also add yogurt for richness and tang."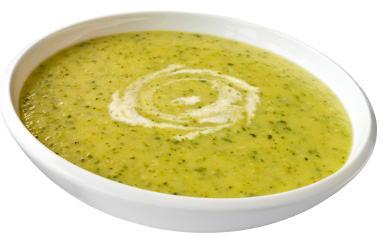 Greek yogurt can add creaminess to soups without the calories and fat of heavy cream. Since yogurt can separate under high heat, take your pot off the stove then stir it in, says Flay.
Though Flay sees yogurt as a first-rate ingredient (not just a diet-friendly substitute), the celebrity chef says you can certainly use Greek yogurt in place of heavier dairy-based ingredients. "You can use Greek yogurt in cakes to add moistness, try it in place of sour cream, or use it to make frozen yogurt. Flay does caution that swapping yogurt into baked goods can change texture and taste. "I recommend finding recipes that actually feature yogurt as the ingredient, such as my orange cornmeal cake."
More dairy-rich recipes and tips
Why yogurt is good for kids
How to make great yogurt parfaits
Lemon herb chicken with yogurt dill sauce
Photo credit: Adriana M. Barraza/WENN.com