Microwave popcorn lung is a real disease
A Colorado man, Wayne Watson, was diagnosed with "microwave popcorn lung" (yes, this is a real condition) after eating two bags of flavored microwave popcorn every day for several years. Evidentally, this isn't a new discovery. This disease has been linked to lung problems in workers at popcorn plants and is caused by inhaling the popcorn's vapor, dicetyl. After filing a lawsuit, Watson was awarded $7 million because the packaging did not contain any warning of this condition.
But we have to ask: What possesses someone to eat two bags of popcorn every day for years? We wonder if microwave popcorn lung is his only physical ailment as a result... Either way, we might think twice before we pop those kernels (and he's since stopped eating it, if you were wondering).
Stick to your ribs
McDonalds' McRib has its own cult following. So why are they making us wait for it? McDonalds, originally set to release the McRib in late October or early November, has delayed the rollout until December. Why? Well, to boost end-of-year sales, of course. So sorry, lovers of the rib-shaped molded meat. You'll have to wait a few more months for your barbecue-flavored pork patty.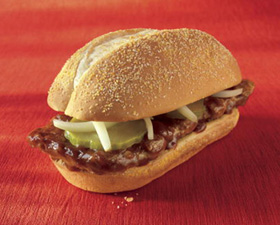 Ben & Jerry's announces new flavor
Ben & Jerry's, makers of the world's best ice cream (in our opinion), has revealed their new Limited Batch flavor. Drum roll please… Cannoli! The creamy new flavor will feature mascarpone ice cream with fudge-covered cannoli bits and a mascarpone swirl. Coming out at the end of September, it will be available for three to four months in the U.S. Personally, we've never met a Ben & Jerry's flavor we didn't like, so sign us up.
Nuts over peanut allergies?
Has peanut butter become a villain? It appears that way. More and more schools across the nation are starting to ban peanut butter sandwiches (and other nut products) due to kids having peanut allergies. It's become quite the heated debate. Some argue moms should be able to pack whatever they want in their kids' lunches, while others say there are plenty of nut substitutes to protect those with severe allergies.
And to think all of this controversy started over a nut ban in an Arkansas school.
Tell us
Do you think banning peanuts in schools is a fair solution? Share in the comments below!
Read more about the latest food trends
Top 10 most addictive foods
The strangest foods from around the world
Best apps for the foodie
Photo credit: Ben & Jerry's, PRNewsFoto/McDonald's