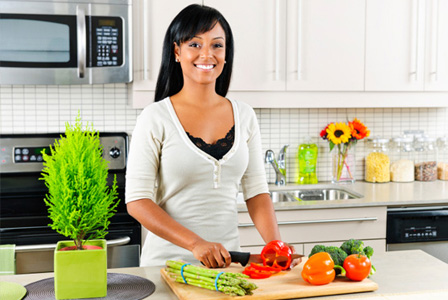 There are so many last minute details to attend to when hosting a party, preparing some of the food ahead of time is a great time saver. Check out what items can be prepped up to a week before the big event.
Plan and prep your party
The key to hosting a great party that you enjoy as much as your guests is to prepare as much of the food ahead of time as possible. Even the simplest food prep tasks take a lot of time — time you want to spend with your guests on the day of the party, not in the kitchen peeling and chopping. Many foods can be prepped in advance, but some have to wait until party day.
Fruits and vegetables
Many root vegetables such as onions, beets, carrots and sweet potatoes can be peeled and cut two to three days in advance and refrigerated in plastic bags. This also applies to greens, lettuce, cabbage, broccoli, cauliflower, radishes, cucumbers and all types of peppers. Squeeze as much air from the bags before sealing as possible to keep them crisp. Starchy vegetables such as turnips, potatoes and parsnips oxidize and darken when peeled, so they have to be pared and cut at the last minute. You can make and refrigerate mashed potatoes several days in advance and then revitalize them after reheating with a dab of butter and a tablespoon or two of cream.
Many favorite fruits like apples, pears, peaches and bananas darken upon peeling, so they can't be prepared in advance, but you can wash them and remove stems and leaves ahead of time. Browning is inhibited by tossing them with lemon juice or other acidics, but they never look as good as freshly cut ones. Berries, cherries, melons and acidic fruits hold their color and taste for several days after peeling and cutting.
Poultry, meats and seafood
For best taste and texture, use fresh poultry, meat and seafood, as frozen types get mushy when defrosted. To save time on party day, cut them into preferred sizes a day or two in advance and store them in the coldest part of the refrigerator, on the back of a bottom shelf.
Salad dressings, marinades, sauces and gravies
Since salad dressings and marinades improve with age, prepare them a week or so ahead of time to give the flavors time to marry and develop richness. Gravies and sauces will keep for two to three days in the refrigerator and are easy to gently reheat on the stove top or in a double boiler. If they are too thick, simply add a few drops of water or milk until they reach the perfect consistency.
Crusts and doughs
These time-intensive recipes keep well when prepared up to a week ahead of time. Tightly wrap crusts and cookie doughs in plastic wrap, refrigerate, and let them warm up on the counter for 20 to 30 minutes before baking. After yeast doughs rise once, punch them down, immediately place in a zippered food storage bag and refrigerate or freeze to instantly halt the yeast activity. Thaw and let them rise in the refrigerator the night before baking. To free up even more time on party day, bake rolls and breads a day ahead of time and reheat them right before serving.
Advance food preparation gives you peace of mind as well as more time to mingle with guests. Organize prepared foods on refrigerator shelves and in drawers, with the first used up front and the last used in back so you don't have to reach over bags and containers.
Have some ingenious tips on advance food prep? Share them with us!
More advance food prep tips
5 Tips for stress-free entertaining
Indoors or outdoors: Plan your best party, no matter where you are
Tips for relaxed hosting
More From SheKnows Explorer