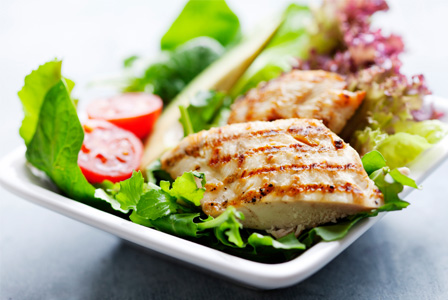 OK. Grilled chicken is for dinner. But now what? Start with an easy recipe for grilled chicken and turn it into something amazing with these six ideas.
Winner, winner,
chicken dinner!
The chicken is defrosted, but now what? If you are wondering how to transform that raw chicken into a fabulous meal, these six ideas for how to serve grilled chicken will help. A lot.
First, start with an easy grilled chicken recipe.
Grilled smoky Caesar chicken
Serves 4
Ingredients:
1 cup Caesar dressing
1/2 teaspoon smoked paprika
1 pound thin-cut chicken breasts (or chicken breast pounded thin)
Directions:
Whisk together the Caesar dressing and paprika. Combine with the chicken in a resealable bag. Refrigerate for at least 30 minutes to allow the chicken and marinade to mix and mingle.
Heat your grill to its medium setting (or prepare charcoal for grilling). Place the chicken on the hot grill, discarding any leftover marinade. Cook for three to five minutes per side or until golden and cooked through, flipping once.
6 Ways to enjoy grilled chicken
More ideas for how to serve grilled chicken
Looking for another idea on how to serve grilled chicken? Plate it topped with a spoon or two of bruschetta topping, chopped tomatoes and basil or salsa. And put some steamed sweet corn on the side too.
More chicken recipes
15-Minute chicken recipe tips
Chicken and couscous recipe
Honey chipotle and lime grilled chicken kabobs