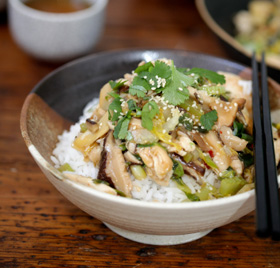 Chop suey
Popular particularly in the mid 20th century in American Chinese restaurants, chop suey can actually be traced back to China. It literally means "assorted pieces" and can be cooked with any meat and combination of vegetables. In China, it is typically accompanied by rice while in the U.S. it's more commonly seen with noodles and is today more often called chow mein.
Fortune cookies
Although fortune cookies are an essential part of the American Chinese restaurant experience, they are virtually unknown in China. While their exact origin is unclear, they appear to have been invented in the U.S. by Japanese immigrants on the West Coast in the early 1900s. They became popular in Chinese restaurants after World War II.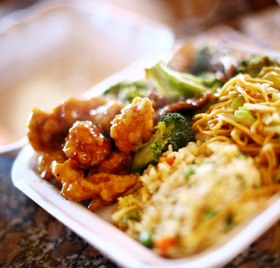 General Tso's chicken
This deep-fried chicken dish in a thick, sweet-and-sour sauce is another American favorite that has no roots in China. General Tso was a real person who lived in the 19th century, but neither he nor his descendants were or are familiar with his namesake dish. A number of restaurants, mostly in New York, claim to have invented the dish.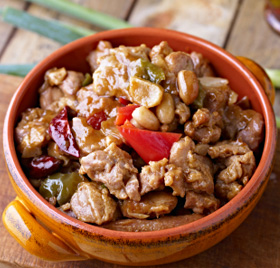 Kung pao chicken
Americans may be surprised to learn that kung pao chicken is actually one of the more authentic dishes to grace standard American Chinese food menus. This spicy stir-fried chicken dish comes from the Szechuan province of China, which is famous for its fiery foods. The traditional Szechuan version, which uses super hot Szechuan peppercorns, tends to be spicier than its American counterpoint.
Get loads of inspiration for (Americanized) Chinese recipes >>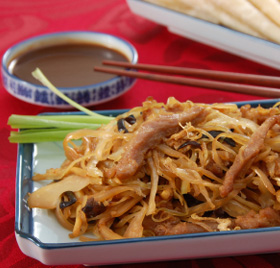 Moo shu
Another surprisingly accurate version of a Chinese dish is moo shu. Originally from Northern China, it began popping up on American Chinese restaurant menus in the 1960s and has been a popular standby ever since. Although pork is the most authentic meat option, chicken, tofu, vegetables or seafood can be substituted. The dish is served with flour moo shu pancakes instead of rice.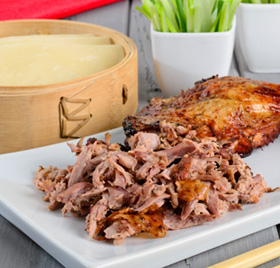 Peking duck
Peking duck is an iconic dish for good reason: It is considered the national food of China and has been around for centuries. Served with bean sauce and pancakes (similar to moo shu pancakes), the duck is roasted in a very particular way to make the meat moist and the skin crispy, which is why most American Chinese restaurants ask that you order it ahead of time.
More American Chinese restaurant favorites
Spicy ginger beef
Chinese egg drop soup
Festive Chinese spring rolls