(page 3 of 3)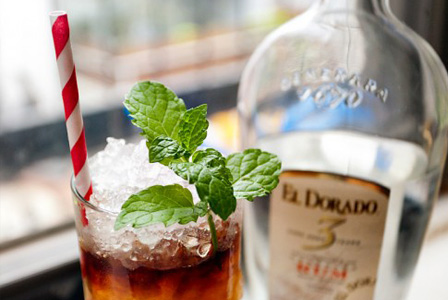 This Labor Day weekend, impress your friends with a cocktail they've never had before. Try one or all three of these sophisticated sips, sure to please every palate.
Sip in style this weekend
The Queen's Park swizzle
Recipe adapted from Smith & Ratliff
Yields 1 cocktail
Ingredients:
Four mint sprigs
1 ounce simple syrup
1 ounce lime juice
2 ounces Demerara rum
Six dashes of angostura bitters
Crushed ice
Directions:
Take the leaves from four mint sprigs and put them in a cocktail shaker. Add the simple syrup and lime juice and then gently bruise the mint with a muddler.
Next, pour in Demerara rum (we are partial to El Dorado, for a traditional but inexpensive Guyanese rum) and swirl the shaker to combine the rum and the mint.
Pour the shaker's contents into a Collins glass and add crushed ice almost to the top, then add six dashes of angostura bitters.
This is the tricky part. The drink gets its name from the method in which it's made—it's swizzled rather than stirred or shaken. Real swizzle sticks are hard to come by, so a bar spoon will have to do. Slide the bar spoon into the glass, stopping just before the mint leaves at the bottom. Rub your palms together, gently rotating the bar spoon and thus "swizzling" your drink. Ideally, the bitters will remain at the top, while the mint remains at the bottom, leaving a beautiful, three-layered libation.
Top with more ice and garnish with a mint spring.
More Labor Day party ideas
5 Festive potato salad recipes
Recipe ideas for your beach party
Labor-less Labor Day party tips