(page 3 of 3)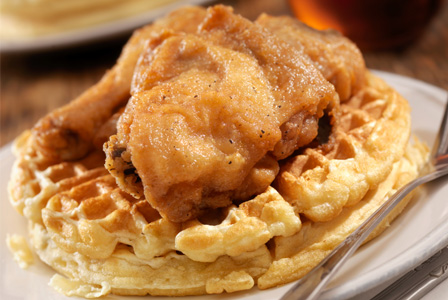 Celebrate National Waffle Day Aug. 24 with waffles for breakfast, lunch, dinner and dessert! Whether you prefer the thick and crispy Belgian kind or the dense and chewy Liege, waffles pair well with almost any topping.
Toast to National Waffle Day!
Dinner: Chicken and waffles with sweet and spicy mayo
Ingredients:
Chicken and waffles:
KRUPS' signature waffle recipe (first page)
4 eggs
1/4 cup heavy cream
2 tablespoons cayenne pepper plus 1 teaspoon for mayo sauce
1 tablespoon salt
1 tablespoon ground black pepper
 2 cups all-purpose flour
1 cup cornstarch
1 tablespoon salt
1 quart peanut oil for frying
8 chicken tenders
Sweet and spicy mayo:
1/2 cup mayonnaise
2 tablespoons maple syrup
1 teaspoon prepared horseradish
1/2 teaspoon dry mustard powder
Directions:
Whisk together the eggs, cream, cayenne pepper, one tablespoon salt and black pepper in a large bowl.
In a paper bag, shake together the flour, cornstarch and one tablespoon salt.
Dip the chicken into the beaten egg mixture, then place into the flour mixture and shake to coat.
Place the breaded chicken onto a wire rack; do not stack. Let the chicken rest for 20 minutes to allow the coating to set.
While chicken is setting, prepare the waffles according to the directions for KRUPS' signature waffles.
Heat about 3 inches of oil in a deep-fryer or large saucepan to 375 degrees F (190 degrees C).
In small batches, fry chicken five to eight minutes until golden brown.
Remove chicken, and drain on paper towels. Set aside or keep warm in a low oven.
To make the mayo, combine mayonnaise, maple syrup, horseradish, cayenne pepper and mustard powder and whisk together until blended.
Spoon mayo over waffles and serve with chicken.
Dessert: Chocolate chip waffles with vanilla ice cream
Ingredients:
KRUPS' signature waffle recipe (first page)
1/2 cup chocolate chips
Vanilla ice cream
Directions:
While preparing KRUPS' signature waffle recipe (first page), add chocolate chips to the batter before cooking.
Prepare waffles as directed.
Spoon ice cream between two warm waffles and serve immediately.
More waffle recipes
Mini chicken and waffle sandwiches
Whole grain cinnamon waffles
Pumpkin Belgian waffles