Cities With The Best Urban Fare To Go
Street food is not a new concept. However, thanks to the amazing popularity of food trucks and food-based travel shows, it's becoming something that tourists look for when scouring a city for grub. Whether you're partial to the well-known food trucks or the unknown local veterans, these 10 worldwide cities are slinging the best street fare around.
(page 2 of 2)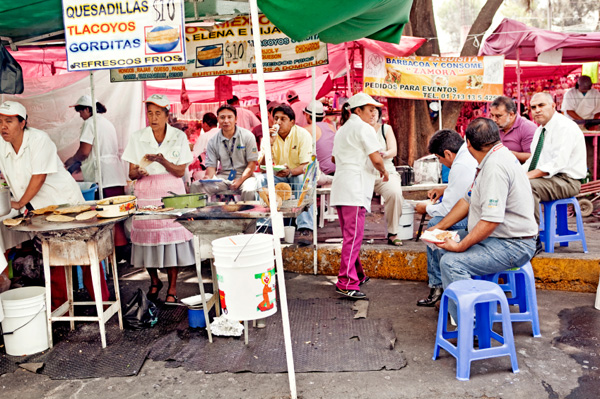 If you want some truly authentic Mexican food, avoid those fast food joints or the highly Americanized places you see in many high tourist destinations. Head to the epicenter of Mexican culture, or Mexico City. Unlike many U.S. cities where food trucks and street stalls have rigorous health codes and permits, Mexico City's aren't often enforced so you have to be careful when scouring for fare. Either go to a street vendor with a guide or hit up the stalls with large lines to avoid getting sick. Don't let that deter you from discovering some of the best street food in the world though. Travel & Leisure suggests going to the carts on Centro Histórico's Zócalo, or the city's main square and order Tlacoyos, or corn patties filled with fava and homemade queso and quesadillas with squash flowers. Another must order is the rajas or charred poblano peppers with peppers and onions.
Although you have to credit Los Angeles for starting the food truck craze, Portland has one of the largest food truck scenes in the U.S. With more than 200 trucks roaming the streets of this Northwest city, you will never be without some incredible street fare while you're visiting. You can expect to find just about any kind of fare you'd like, from Korean to Japanese to Norwegian. If you're in the mood for some breakfast regardless of the time, check out The Big Egg, which serves luscious egg sandwiches and golden French toast. If you're looking for the best batch of French fries around, don't miss the Potato Champion. This French fry-centric truck serves every kind of fry you could imagine with even more of a selection of unique dipping sauces, like anchovy mayo and ketchup with rosemary and truffle oil.
If you're looking for authentic food in one of Israel's busiest cities, forget the crowded and overpriced restaurants. This popular tourist city is lined with delicious street vendors, many offering loads of vegetarian fare. Falafel, the unofficial dish of Israel, is Tel Aviv's specialty and you'll find the best varieties in the streets. Another popular local favorite is actually an Iraqi dish, known as sabich, which is a pita stuffed with fried eggplant, egg and pickled cabbage. You can also expect to find a great deal of kosher fare, too. For some of the best shawarma (or lamb, beef, turkey, goat or beef cooked on a vertical split), check out Ibn Gvirol Street.
For many Mumbai residents and visitors, street food is an institution. However, like Mexico City, Mumbai lacks many strict regulations so foodborne illnesses and food positioning can be a tourist's worst nightmare. For the safest bet, avoid any milk-based products and uncooked chutneys or meats. If you have a serious sweet tooth, you'll love the stalls, or vada pavwalas, here since most of the fare is sweet in nature. The most popular street food finds are chaat, or snacks made with dough and vegetables and vada pav, a potato fritter in a garlic bun. Frommer's suggests checking out the street stalls in the Fort Area or around some of the major landmarks, like Marine Drive and Chowpatty beach.
If you think the city of romance only has baguettes and cheese, you're sadly mistaken. This food mecca has the amazing French food you lust after served from decadent street carts and vendors. If you're in the mood for something a little more substantial than brie and bread, grab an indulgent crepe filled with Gruyere cheese and ham. Or, for something a little different, enjoy a fresh baked pita with a falafel fried to crispy perfection in the Marais district. For the best street fare (including unique crepes) Food & Wine recommends visiting the Latin Quarter and Montmartre. However, you can't go to Paris without enjoying a fresh baguette so order one filled with ham and cheese (or a jambon et fromage baguette).
It's no surprise Bangkok, the capital of Thailand, made the top of our list because you can't go anywhere in this populated city without the mouthwatering aroma of authentic Thai food wafting past your nose. There are more than 12,000 food-slinging street vendors in the city; more than 8,200 are licensed with a health inspector stamp of approval. To make sure you're grabbing the grub that's been checked for E. coli and salmonella, eat from the stalls that have the words CLEAN FOOD-GOOD TASTE. If you can't choose from the thousands of delicious smelling vendors, go on a Bangkok Food Tour. The tour will take you to the best and most reputable stalls, as well as teach you a bit about the Thai culture, like what to order, where else to go on your visit and how to say key phrases like Saang ahaan noi, or I'd like to order. The folks at Food & Wine advise you to check out the brightly lit Yaowarat Road for some of the best food, like pork skewered on sugar canes, fish curry, deep-fried sweet bananas and roast duck with egg noodles.
More foodie cities to visit
Best US cities for foodies
Top 10 cities to drink in
Vegan vacations