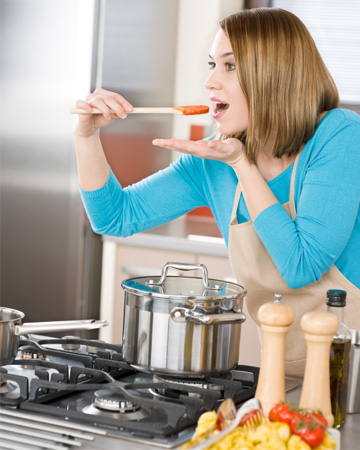 Easy kitchen saves
Whether you were heavy-handed with the salt or the lid fell off of the salt shaker (yikes!), we've all ended up with dishes that were way too salty. Before you freak out or throw it away and start from scratch, try these easy ways to fix the problem.
Your kitchen fix will depend on the type of dish you are trying to save. The solution for an overly-salty chili will likely be different than the ways to fix a salty brownie. Use common sense in the kitchen and you'll be fine.
Rinse
If the overly-salty ingredient can be rinsed off, that is a good place to start. If you've left meat in a salty brine for too long, for example, or steamed vegetables in overly-salty water, then rinsing them off with cold water in a colander might help.
Starch
If your soup or stew is too salty, try adding sliced potatoes, rice or even a bit of flour. This might help to absorb some of the saltiness and bring more balance to your dish.
Sugar
Sometimes an aggressively-salted dish can benefit from a touch of sweetness. By introducing a foil to the salty flavor, sugar or honey might counteract it. Be sure not to add too much sweetener though!
Dilute
For soups, stews, sauces or anything that can be diluted, try adding a touch of water, stock, tomato sauce or juice. This will give the salt more volume, thus spreading it out and making the overall dish less salty.
In another pickle? Find more solutions to common kitchen problems >>
Lemon juice
The acidity in lemon juice may just be the trick to offsetting the overly-salty flavor of a dish. Try other citrus juices as well, which lend a bit of tartness and sweetness.
Sauce
You can try to mask your salty dish with a sauce. A chicken breast that has too much salt, for example, can be saved in part by a sweet or somewhat bland sauce. Try adding whipped cream or a berry sauce to a dessert that ended up with salt in it.
More about salt
Kosher salt, organic salt and sea salt
Lower your salt intake
Slash the salt