(page 3 of 4)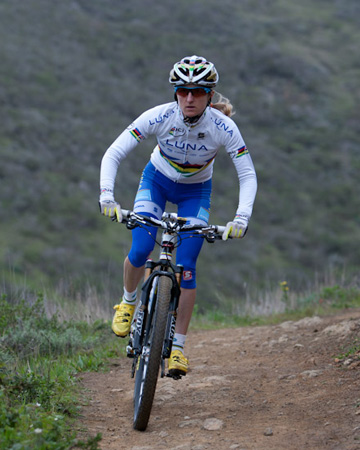 Gold medal diet tips
We may not be competing in the London 2012 Olympics, but we can certainly live — and eat — vicariously through the elite-level athletes. Instead of simply asking a sports nutritionist to give us top diet tips to train like an Olympian, we turned to four female Olympians to get the dish on how they eat and what they eat.
Catharine Pendral — Olympic cross-country mountain biker
Like Gould, Catharine Pendral will be biking her best at the London 2012 Olympics. The Canadian cross-country mountain biker also is one of the ladies on the Luna Pro Team. Here are her favorite Olympian diet tips.
1
Stay hydrated — with water
Pendral relies on water to keep her body well-hydrated while she's training. She doesn't reach for fancy beverages; she prefers water since she'd rather get her calories and nutrients from other sources. "Don't drink your calories," the athlete advises. "It's easy to add 200 to 500 calories a day with sugary coffee drinks, sodas, etc." Pendral also relies on water to keep her from boredom snacking.
Some athletes use their ultra-heavy training as an excuse to gobble up junk food and high-calorie fare. But Pendral prefers to keep her diet clean, including her snack choices. She says, "Always have fruit, carrots and unprocessed snack food around so healthy eating choices are easy."
Pendral's favorite snacks are Luna Fiber Peanut Butter Strawberry Bars and Clif Chocolate Coconut Mojo Bars.
3
Don't store junk food in the house
When it comes to junk food, Pendral subscribes to the "out of sight, out of mind" approach. She keeps junk food out of her kitchen. "If it's there, you will eat it," she explains. "If you really need an unhealthy snack, walk to the store for it and, if on the way the craving goes away, enjoy the walk!"
Up next: Carmelita Jeter's diet tips >>