(page 2 of 4)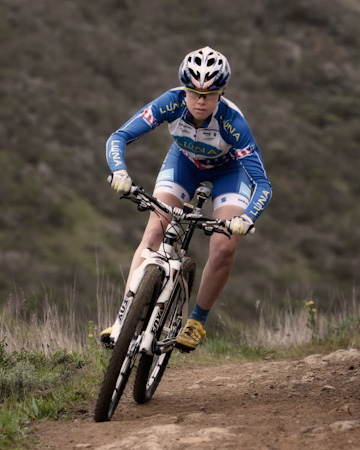 Gold medal diet tips
We may not be competing in the London 2012 Olympics, but we can certainly live — and eat — vicariously through the elite-level athletes. Instead of simply asking a sports nutritionist to give us top diet tips to train like an Olympian, we turned to four female Olympians to get the dish on how they eat and what they eat.
Georgia Gould — Olympic cross-country mountain biker
Georgia Gould is the reigning U.S. cross-country mountain bike national champion and is part of the Luna Pro Team. She offers up these three gold medal diet tips and a sample of her daily diet.
If you want to train like the best, you need to eat like the best. Gould goes for whole foods to keep her in top training shape. "The less processed food you eat, the better," she says. "Fruits, veggies, nuts and whole grains are your best bets. I splurge for organic whenever possible, but meat, dairy, apples and berries are the ones I really try to buy organic."
2
Fat doesn't make you fat
The upper echelon athletes know that a balanced diet is key to their sports performance. That means relying on a diet that includes carbohydrates, protein and fat. Yes, fat. "Including [the right] fats in your diet is important," says Gould. "Aside from the important nutritional role fats play, they will help you stay full longer and feel more satisfied." What are the best fats to eat? Gould recommends nuts, nut butters, avocados, olive oil, roasted walnut oil (great for salad dressings), coconut and even butter in moderation.
If you think athletes eat boring, restrictive, tasteless diets, think again. Gould's Olympic diet includes flavorful foods she loves eating. "I use salt, oils, vinegars, citrus and lots of different spices to dress up my food and make it interesting and delicious," the Olympian explains. "I love food and it's important to me that I enjoy eating it. Cooking does take a little time, but the Internet is a great resource when you need to come up with something fast, healthy and delicious. With a little planning, cooking great food can be easy."
A day in Gould's diet
Breakfast:
French press of Nativa Yerba Mate
Bob's Red Mill hot cereal with almond butter, bananas and raisins
Lunch:
A big salad made with lettuce, carrots, avocado, tomato, olives, a little feta cheese and sometimes a can of sardines (Wild Planet sardines are packed in BPA-free cans) or wild salmon and any leftover roasted veggies
Dinner:
Salad (lettuce, carrot, tomato, avocado, oil and vinegar)
Grilled grass-fed steak
Grilled asparagus
Roasted sweet potatoes (cut potatoes into bite-sized pieces, toss with olive oil, salt, pepper and rosemary, spread evenly on a baking sheet and roast at 375 degrees F. until they are browned in spots)
Snacks:
Sliced apple (preferably Pink Lady apples) with Santa Cruz Organics dark roasted peanut butter
Whole grain seeded/nut bread (preferably homemade) and Justin's Chocolate Hazelnut Butter (this stuff really satisfies my sweet tooth and it has way more nuts and way less less sugar than Nutella. It's also great with bananas on whole grain pancakes)
Plain Staus Organic yogurt with homemade granola (made with Bob's Red Mill Rolled Oats) and berries (organic when possible)
Dessert:
Dark chocolate, usually Alter Eco Dark Blackout or Chocolove's Dark Chocolate with almonds and sea salt.
bonus recipe
Gould also makes coconut milk "ice cream" by mixing together a can of Native Forest coconut milk, a few mashed ripe bananas, some chopped walnuts and some chocolate chips or chopped up dark chocolate. Freeze and enjoy!
Up next: Catharine Pendral's diet tips >>