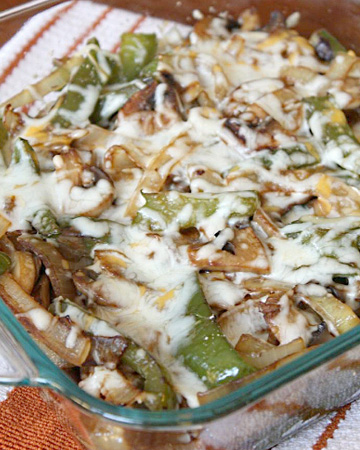 Healthy & full of flavor!
This dish is packed with grilled chicken and simple sauteed vegetables. It's perfect for a quick weeknight dinner.
Chicken is always a great go-to meal,  because it's quick and can be cooked in so many delicious ways. This recipe takes simple grilled chicken and covers it with simple sauteed vegetables with just a little cheese.
We went light on the cheese to keep the calorie count low. However, just because the calorie count is low, don't think the flavor is anything but big!
Smothered chicken recipe
Serves 4
Ingredients:
4 grilled boneless chicken breasts
1 teaspoon olive oil
1 green bell pepper, sliced
1 cup sliced white mushrooms
1 large onion, sliced
1 clove garlic, minced
1 teaspoon Italian seasoning
Salt and pepper, to taste
1 tablespoon Dijon mustard
1/2 cup mozzarella cheese
Directions:
Preheat oven to 350 degrees F.
Heat olive oil in pan and add green peppers, mushrooms and onions. Saute until soft and then add garlic, Italian seasoning and salt and pepper. Stir together and set aside.
In an 8 x 8-inch pan add the grilled chicken. Cover chicken evenly with Dijon mustard.
Take warm vegetables and top chicken. Cover vegetables and chicken with mozzarella cheese.
Cook in the oven until the cheese is melted, approximately 10 minutes.
More easy chicken recipes
Easy chicken Marsala
Grilled balsamic chicken
Moroccan chicken