Grainger suggested turning to these natural options for the red, white and blue treats:
Still want dye?
Of course, we know that sometimes you just want dye to make funky red, white and blue concoctions (cupcakes anyone?). The good news is that there are natural options available like Nature's Flavors. Made with plant-based pigments, these natural dyes are available in red, yellow, blue, purple, orange and green.
Red, white and blue recipes without the dye
Chicken and strawberry salad
Serves 4
This red, white and blue salad from the Cooking Light Big Book of Salads is perfect for your Fourth of July celebration.
Ingredients:
Dressing:
1 tablespoon sugar
2 tablespoons red wine vinegar
1 tablespoon water
1/8 teaspoon salt
1/8 teaspoon freshly ground black pepper
2 tablespoons extra-virgin olive oil
Salad:
4 cups torn romaine lettuce
4 cups arugula leaves
2 cups quartered strawberries
1/3 cup vertically sliced red onion
12 ounces skinless, boneless rotisserie chicken breast, sliced
2 tablespoons unsalted cashews, halved
1/2 cup (2 ounces) crumbled blue cheese
Directions:
To prepare dressing, combine first five ingredients in a small bowl. Gradually drizzle in oil, stirring constantly with a whisk.
To prepare salad, combine romaine and next four ingredients (through chicken) in a bowl; toss gently. Arrange about two cups of the chicken mixture on each of four plates; top each serving with one-and-one-half teaspoons cashews and two tablespoons cheese. Drizzle about four teaspoons dressing over each serving.
Red, white and blue pancake stacks
Serves 6
Ingredients: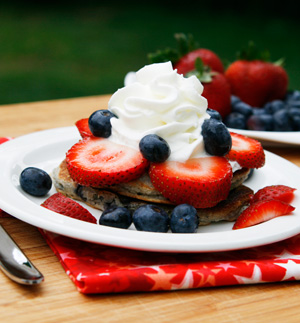 Pancakes:
1 large egg
1 cup all-purpose flour
1 tablespoon granulated sugar
1 tablespoon baking powder
1/4 teaspoon kosher salt
1 cup milk
2 tablespoons canola oil
1 cup blueberries
1 teaspoon butter
For the stacks:
Whipped cream, to taste
1 cup fresh sliced strawberries
1 cup blueberries
Directions:
Heat a nonstick griddle at just below medium heat. While it's heating, beat the egg in the bowl of a stand mixer until frothy (one to two minutes). Add the flour, sugar, baking powder, salt, milk and oil. Beat until just combined, scraping down the sides of the bowl as needed. Add the blueberries and beat briefly.
Grease the griddle with butter. Drop the batter in one-quarter-cup portions onto the griddle. Cook, flipping once, until golden on both sides. Transfer to a pancake warmer or a warm oven until all the batter has been used.
Stack two pancakes on each plate. Top with a good dollop of whipped cream. Arrange strawberries and blueberries on top.
Serve immediately.
More July 4th food ideas
Firecracker cupcakes
3 Easy 4th of July recipes
3 Boozy Popsicle recipes