(page 2 of 2)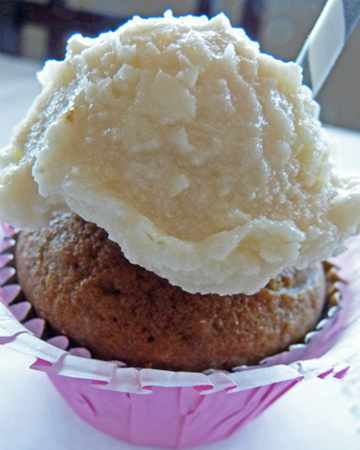 Take a bite of classic drinks
On a hot summer day, there is nothing better than a cold root beer float or a rich chocolate malt. We've taken those classic flavors and put them into cupcakes. When you don't want to worry about your dessert melting, make these cupcakes instead, and you won't even miss the ice cream.
Root beer float cupcakes
Yields 12
Ingredients:
1 cup root beer
1/2 cup butter
3/4 cup sugar
2 eggs
1 teaspoon vanilla extract
3 teaspoons root beer extract
2 cups flour
1 teaspoon baking powder
Dash of salt
Frosting:
1 cup vanilla coconut milk
2 tablespoons cornstarch
Cold water
2 teaspoons vanilla extract
1 cup butter
1 cup sugar
Directions:
Preheat oven to 350 degrees F and line a muffin tin with cupcake liners.
Cream together butter and sugar. Add eggs one at a time. Add vanilla and root beer extract and mix just until combined. Finally add the root beer and mix.
In a small bowl combine sifted flour, baking powder and salt and stir to combine.
Slowly add the flour mixture into the wet mixture. Mix until combined. If it is too runny, add a little more flour.
Pour into the prepared tin and bake for 15-20 minutes or until they are cooked through. Set aside and let cool completely.
For frosting:
Pour milk into a small saucepan,  stirring often to prevent burning. Mix cornstarch with a small amount of cold water and stir to combine. When the milk is warm pour in the cornstarch and bring to a boil. Remove from heat and cool completely. Add vanilla and stir to combine.
In a mixing bowl add butter and one cup of sugar. Pour the milk mixture over the top and start mixing. Mix until light and fluffy.
Place finished frosting in the freezer and let freeze.
When you are ready to serve, scoop frosting using a small ice cream scoop and put it on top of the cupcake. Add a straw for a cute look.
More fun dessert recipes
Candy kabobs
Edible teacup cookies
Banana salted caramel cream dessert