You'll Need
Extra Napkins
Grilled cheeseburgers are a quick and easy summertime meal. Make them even better by following a few simple rules next time you throw a few patties on the grill.
(page 2 of 2)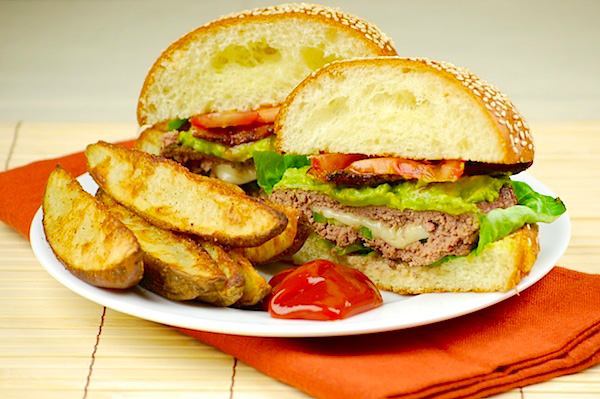 Spicy jalapeño and pepper jack-stuffed cheeseburgers
Yields 6
Ingredients:
2 pounds ground beef
2 teaspoons Worcestershire sauce
1/2 teaspoon cumin
1/2 teaspoon coriander
1/2 teaspoon garlic powder
1/4 to 1/2 teaspoon salt, to taste
1/4 teaspoon pepper
6 slices pepper jack cheese
Chopped jalapeños
6 hamburger buns
Canola oil
Directions:
Heat grill to about 425 degrees F.
In a large bowl, sprinkle Worcestershire sauce and all spices over ground beef. Lightly mix together.
Divide ground beef into six equal portions, then make two thin patties with each portion. Place sliced cheese on top of one patty, leaving a border of ground beef. Sprinkle chopped jalapeños (to taste) on top of the cheese. Cover with second patty and seal edges together well. (Depending on size of cheese slices, you may need to layer two slices to cover the entire patty.)
Oil grill grates with canola oil and place burgers on grill. Grill over direct heat for 8 to 10 minutes, turning once.
Serving suggestion: Serve with mayonnaise, mashed avocado, tomato, lettuce and bacon.
More on summer grilling
Asian barbecue recipes
4 Homemade spice rubs for barbecuing
7 Summer barbecue party must-haves