Because Dad doesn't want another "real" tie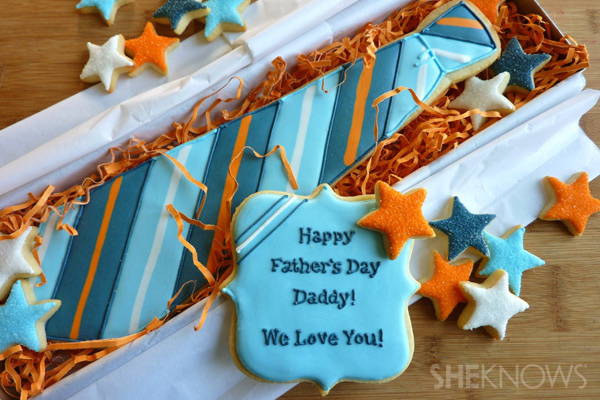 The traditional gift for dads on Father's Day has long been the necktie...
but we all know the way to a man's heart is through his stomach! What to do... What to do?! Combine the two! It's easier than you think!
What you'll need for the sugar cookie necktie:
Sugar cookie dough
Tie-shaped gift box
Royal icing and coloring
Pastry bags, squeeze bottles and decorating tips
 1 1/4- x 8-inch strip of card stock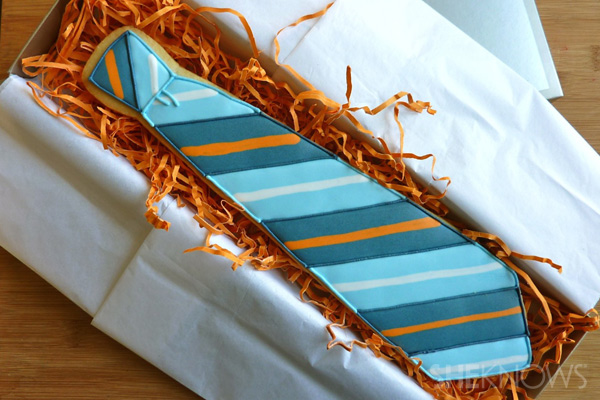 1
Prepare sugar cookie dough
Ingredients:
2-3/4 cups flour
1 teaspoon baking powder
1/2 teaspoon salt
3/4 cup room-temperature unsalted butter
1 cup granulated sugar
2 room-temperature large eggs
1 teaspoon vanilla
Directions:
Combine flour, baking powder and salt in a mixing bowl. Mix well with wire whisk. With an electric mixer or stand mixer, cream together butter and sugar. Add eggs and vanilla, beat until light and fluffy. Beat in flour mixture until smooth.
Wrap in plastic wrap and chill in refrigerator one hour or overnight
Roll to one-quarter inch thickness, using flour as needed to prevent sticking.
2
Prepare your necktie template
Print your template.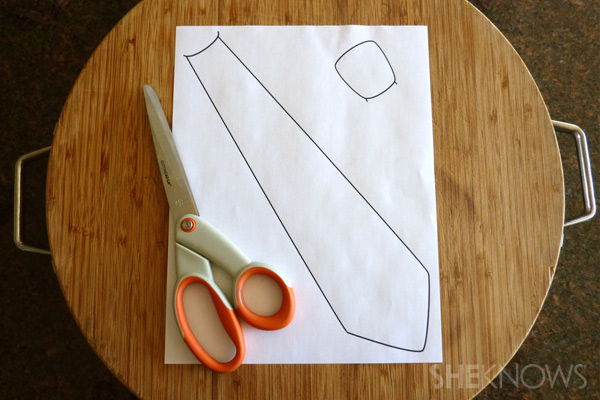 Cut out shapes.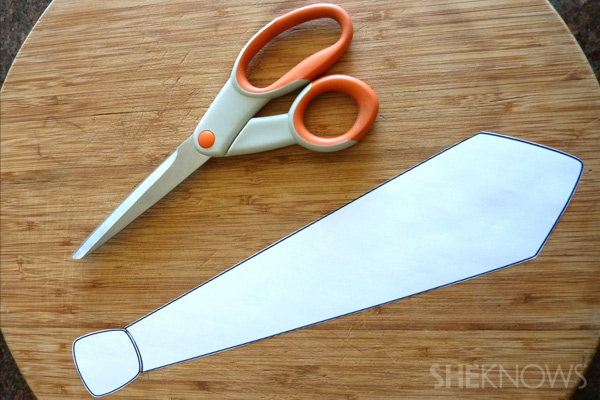 Tape the two pieces together.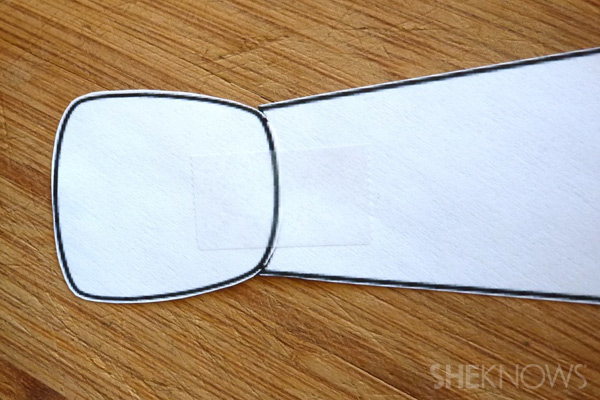 Check the size of the necktie template against the size of your tie box.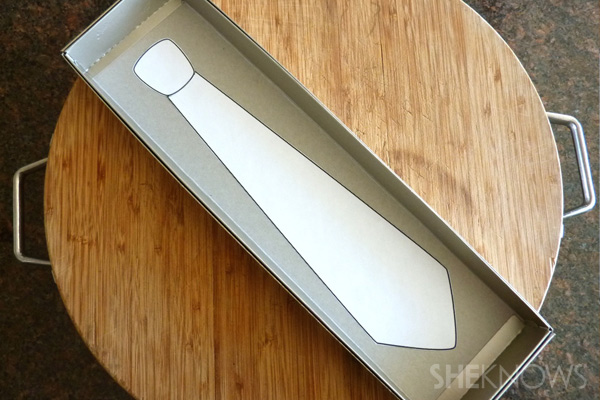 3
Cut out your sugar cookie
Place your rolled-out cookie dough on your cookie sheet. Place a sheet of parchment paper or a silicone baking mat under your dough.
Using a thin knife, trim around your template, cutting out your tie.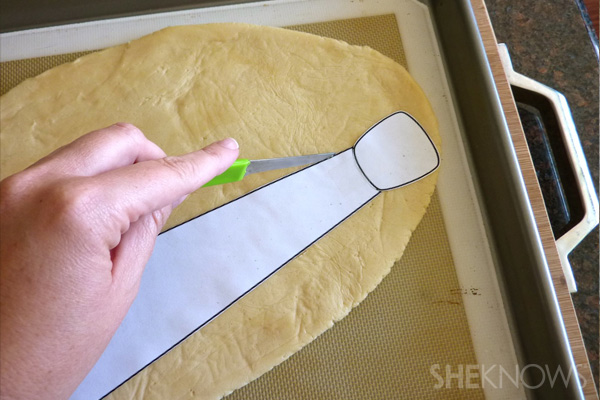 Remove the excess cookie around your shape.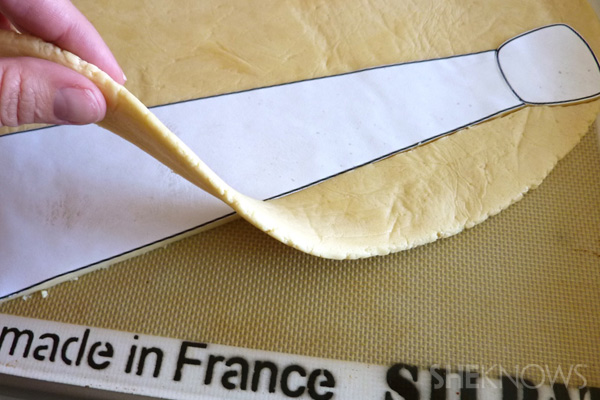 If you have room, move your template over and cut out a second necktie. (Always make an extra if you can, no need to tempt fate.)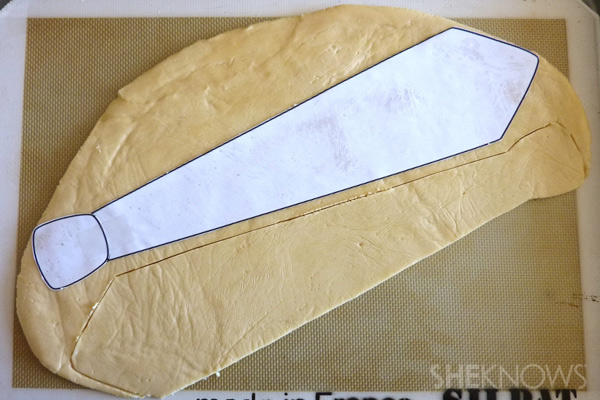 4
Bake your cookie
Preheat your oven to 375 degrees F.
Before you bake your sugar cookies, use a long spatula to space them evenly on your cookie sheet. This will help them bake evenly and not spread into each other.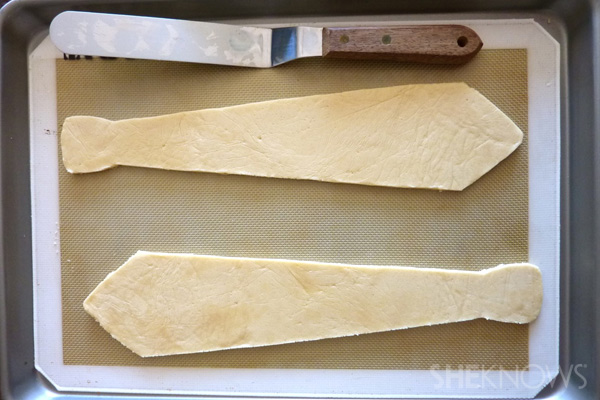 Baking times will vary from oven to oven.
These were baked for 9-1/2 minutes, but I began checking them at 8 minutes.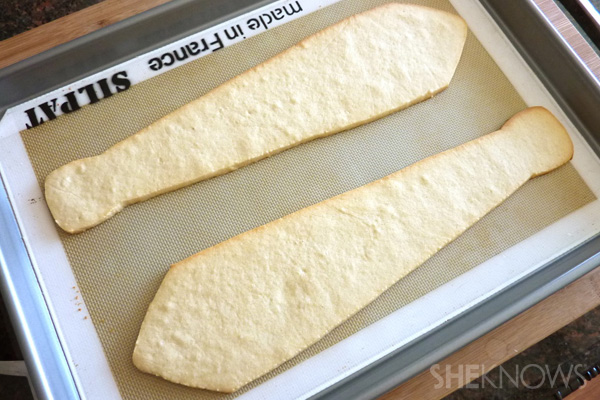 You want the edges to be just turning brown.
*This is a BIG cookie. If it is too soft, it won't hold up to the royal icing.
5
Prepare your colors
If your Dad has a favorite necktie, I would definitely use those colors!
For this tie I used...
Dark blue: 10 second flood and piping icing — Mixed with navy blue, a little violet and a drop of black.
Light blue: 10 second flood and piping icing — Mixed with a small a drop of royal blue.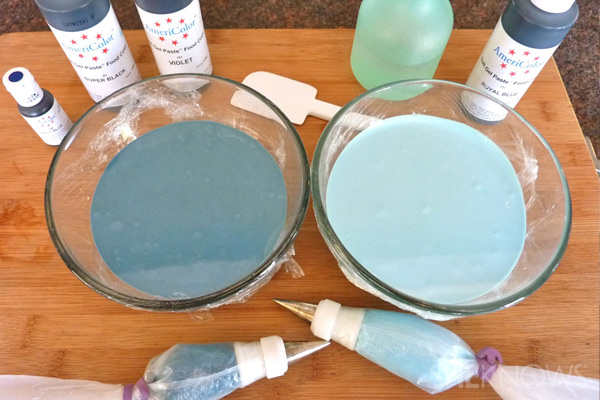 Orange: 10 second flood icing — Mixed with equal parts orange and electric orange.
White: 10 second flood icing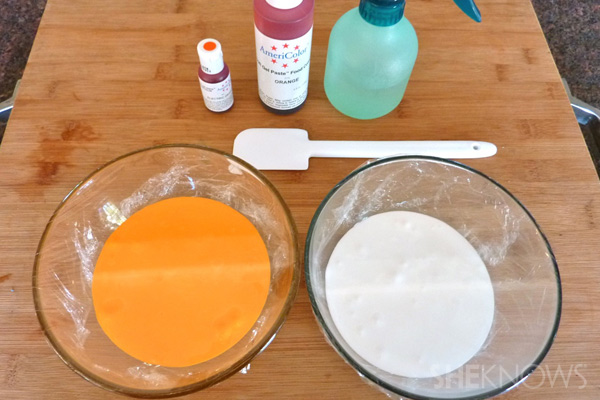 6
Flood your necktie cookie
Put your dark blue piping icing in a pastry bag fitted with a #2 decorating tip.
Line your card stock up with the bottom diagonal of the tie. Pipe a line along the top edge of the card stock.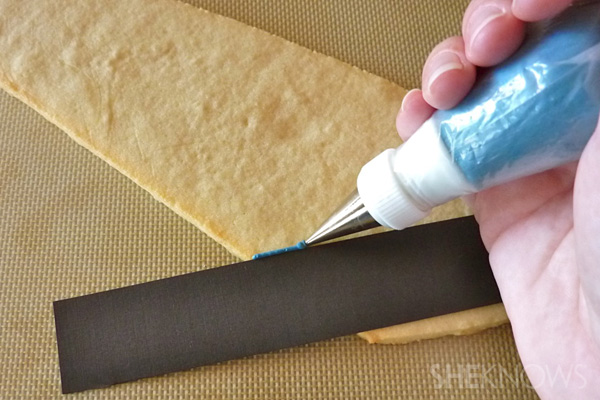 Now pick up the card stock and place it directly above the line you just made.
Using your light blue piping icing (in a pastry bag fitted with a #2 tip), pipe a line above the card stock. (The dark blue line is now directly below it.)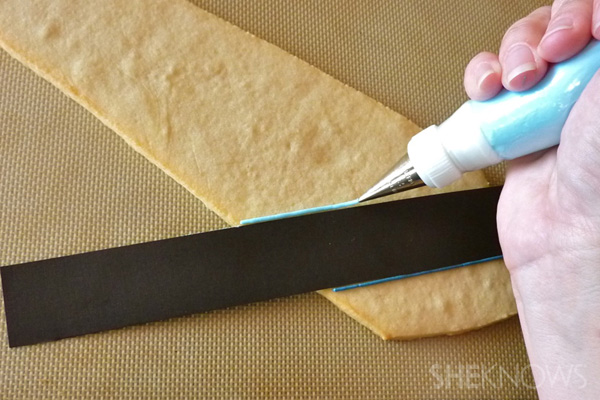 Using the card stock will ensure that your diagonals are both equally spaced and straight! Continue moving up the tie, alternating colors as you go. When you get to the top, draw a horizontal line at the bottom of the knot.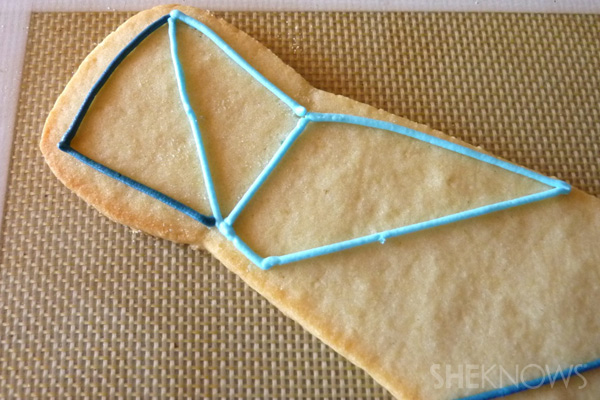 Make sure you draw the stripe on the knot in the opposite direction! Connect your stripes along the outer edges with alternating colors.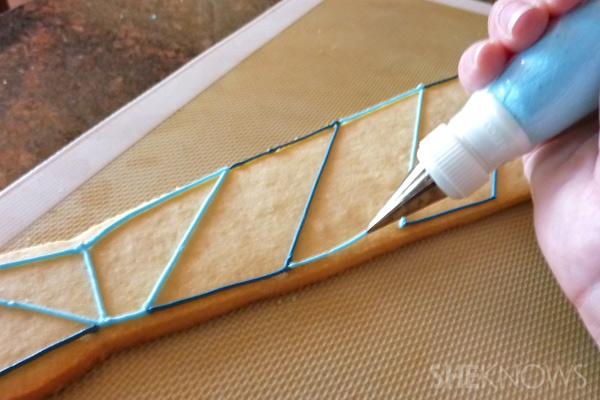 Let the icing dry approximately 30 minutes.
Pour your flood icing into squeeze bottles fitted with #3 decorating tips.
Start by flooding your first diagonal section. Flood until almost full, using pastry tip to push icing into corners.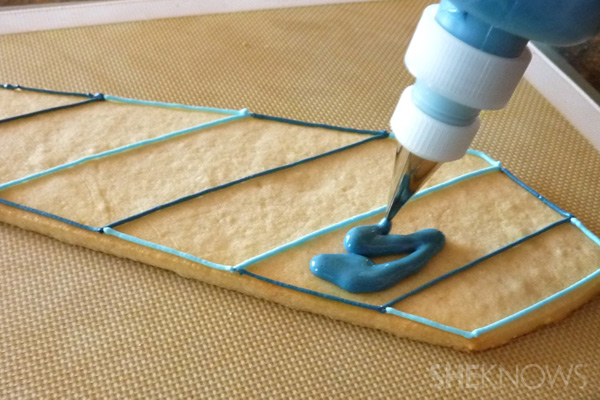 Immediately pipe a straight line across the section with orange flood icing.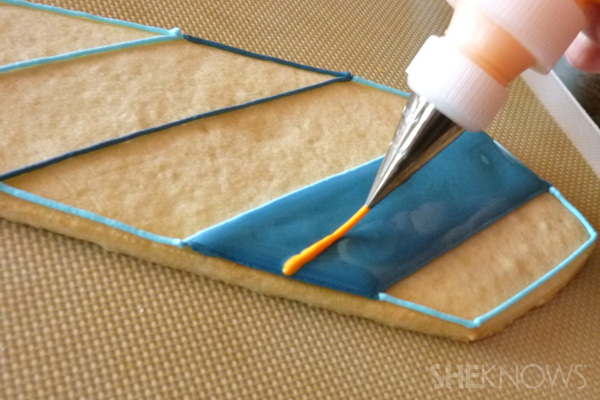 This is called a "wet-on-wet" technique. The orange will settle evenly with the dark blue and leave a smooth surface. (y'know... like a necktie)
Fill all the dark sections and let set approximately 30 minutes.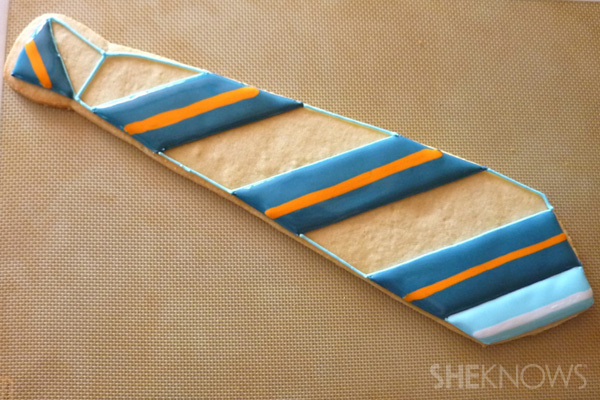 Continue this same technique with remaining sections using light blue and white icing.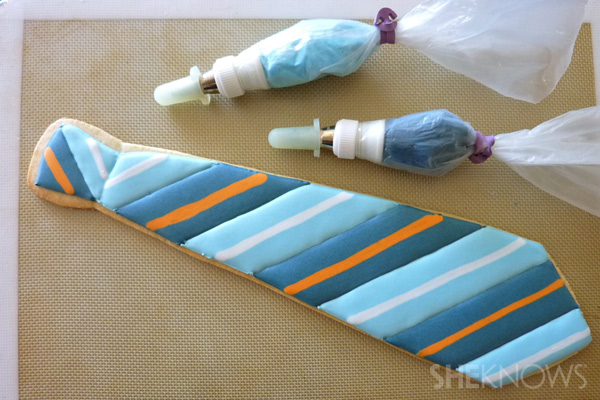 Let the Father's Day cookie dry overnight! No touching!!
The next day your icing will be dry and touchable.
While you're waiting for the icing to dry, make dad a matching Father's Day shirt card.
7
Love is in the details
The final touches always make your cookie extra-special.
With your dark blue piping icing and a #2 tip, pipe lines where your sections meet, skipping the knot at the top.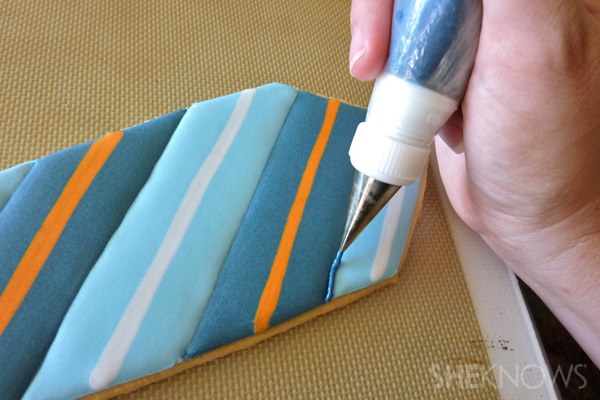 For the knot, use your light blue icing and a #2 tip. Pipe a horizontal line where the knot meets the body of the tie.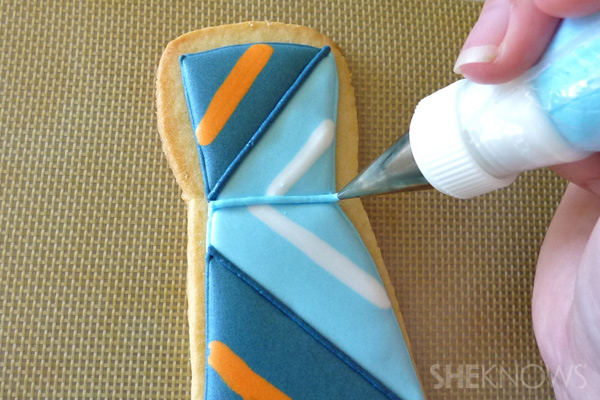 Then, outline the edge of your necktie cookie, alternating the colors so they match the stripe.
Let it dry a few hours, overnight if you can.
8
Wrap up your Father's Day cookie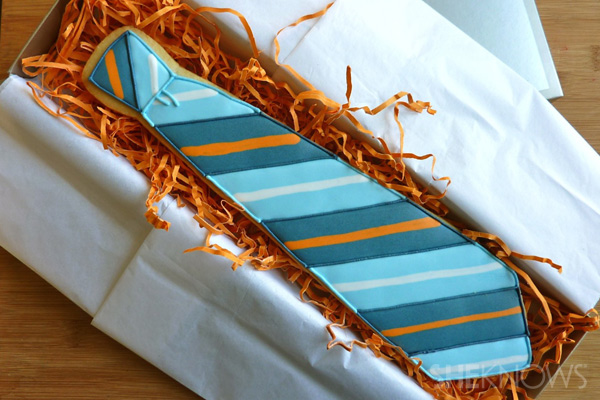 More Father's Day gift ideas
iDad Father's Day card
Plaid sweater cookies for Father's Day
DIY Father's Day gift