Patriotic Dish For Your Fourth Celebration
Believe it or not, the Fourth of July is right around the corner. It's time to start planning your family barbecue and find some patriotic dishes for your menu. You've seen the flag cakes and the red, white and blue trifles, but I bet you haven't seen flag lasagna. This unique and creative dish is sure to wow your guests with its design and delicious taste.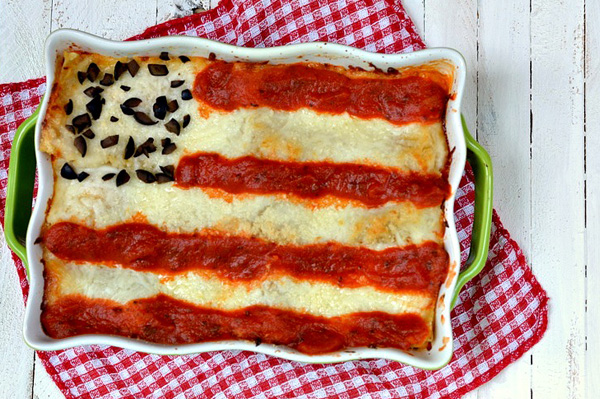 This ooey, gooey, cheesy and decadent lasagna will be a hit with adults and kids alike. Plus, it's made with all fresh and natural ingredients, so no weird food dye required. No better way to kick off the Fourth than with this festive and delicious recipe.
Fourth of July flag lasagna recipe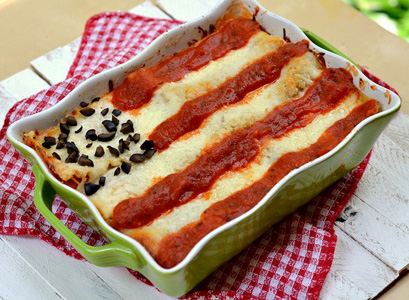 Recipe adapted from Family Fun
Serves 8
Ingredients: 
1 pound lean ground turkey
1 red onion, finely chopped
1 cup chopped mushrooms
1-1/2 to 2-1/2 cups marinara sauce
2 cups fat-free cottage cheese
1 pint fat-free ricotta cheese
1/4 cup Parmesan cheese
2 eggs
16 ounces cooked whole wheat lasagna noodles
8 ounces part skim shredded mozzarella
For the topping:
Black olives, chopped
1/2 cup marinara sauce
Directions: 
To prepare the lasagna, cook ground turkey and onions in a large pan over medium-high heat until ground turkey is browned, about six minutes. Add the pasta sauce (starting with 1-1/2 cups, adding more if necessary) and heat another two to three minutes. Remove from heat.
In another bowl, mix together the eggs, Parmesan cheese, ricotta and cottage cheese.
In a large, greased 9 x 13-inch jelly roll pan, begin the assembly of the lasagna. Place one layer of meat sauce, then on top of that, layer with lasagna noodles. Add one layer of the ricotta cheese mixture, then one layer of mozzarella. Repeat the layering until all ingredients are used, saving about one-half cup mozzarella for the top. Once layers are done, sprinkle remaining mozzarella on top to create an even layer.
Preheat oven to 350 degrees F, cover and bake for about 40 minutes. Remove cover and bake another five or 10 minutes to lightly brown the cheese. Remove from oven and let cool a bit.
Before serving, place chopped olives in the upper left hand corner of the lasagna to make the "stars" of the flag. Then, using a small spoon, carefully make strips with the remaining sauce, starting at where the olives are and moving toward the end of the pan. Serve immediately and enjoy!
More Fourth of July recipes
4th of July barbecue recipes
4th of July cocktail recipes
4th of July: Independence Day desserts