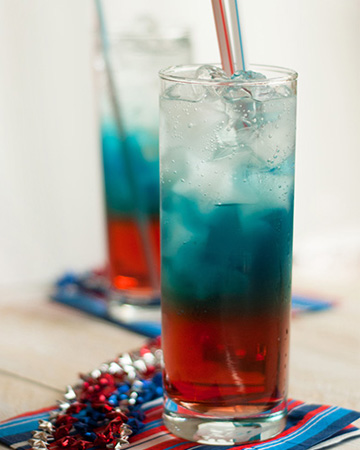 Fun drinks to keep you cool
Summer is warm breezes, barbecues and cold drinks. Most drinks seem to be more geared toward grown-ups, leaving out the little ones. Here we share two spins on fun, fruity, layered summer drinks. Kids of all ages will be in awe over the cool look of these beverages.
These drinks are fun, cool and will really give your next barbecue a "wow" factor. Get creative by using different types of juices, beverages and diet sodas. In order to properly layer the drinks, start with the beverage that has the highest sugar content and end with the diet soda since it has the least amount of sugar. These drinks can be enjoyed by kids of any age since they use nonalcoholic ingredients. However, feel free to spike them if your party is for adults!
Patriotic layered drink recipe
Yields 6 servings
Ingredients:
1 (2-liter)  diet Sprite or diet 7UP
1 bottle cranberry juice (not diet)
1 (32-ounce) bottle berry blue or any blue-colored Gatorade
6 tall glasses
Ice cubes
Directions:
Fill the glasses with ice cubes.
Pour the cranberry juice into a glass, filling it just less than halfway full. Repeat with remaining five glasses.
Very slowly pour the blue Gatorade over the ice cubes so that it layers onto the cranberry juice.
Once all glasses are filled with the cranberry juice and Gatorade, top each glass off with diet 7UP or diet Sprite. Best if served immediately.
Over the rainbow layered drink recipe
Yields 6 drinks
Ingredients:
2-3 Ice cube trays (you can get creative and use trays with different shapes)
A variety of juices or colored beverages in all colors of the rainbow (red, orange, yellow, green, blue and purple)
1 (2-liter) bottle diet Sprite or diet 7UP
6 tall clear glasses
Directions:
One by one add each colored juice or beverage to the ice cube tray, creating six ice cubes for each of the colors you are using. You need one ice cube of each color per drink.
Place the ice cube trays in the freezer until the juice is frozen solid.
In a tall glass, start by adding one of each color ice cube in this order: red, orange, yellow, green, blue and purple.
Right before serving the drinks gently pour the Sprite over the ice cubes filling the glass. As the ice cubes begin to melt they form a rainbow. Serve immediately.
More drink ideas
Low-sugar drinks for kids
4 ways to put a twist into your lemonade
Low-carb summer drinks