Apricots come into season in the U.S. in May and continue to grace us with their lovely fragrant presence until August. These beta-carotene and vitamin C rich fruit are wonderful in homemade jams and fruit crumbles, but they can also be used to add a seasonal and fresh twist to your favorite warm-weather cocktails.
How to choose and store apricots
Choose apricots that have a vivid orange or reddish color. Avoid those that are very pale or yellowish. They should not be mushy at all but, ideally, will have a slight softness to them. Overly hard apricots signify that they have not been tree-ripened — and tree-ripened fruits always taste best.
If you're not able to find perfectly ripe apricots, store them at room temperature in a paper bag for a few days until ripe.
Ripe apricots should ideally be used or consumed right away, but if they are not, store them in the refrigerator in a sealed container. Keep in mind that apricots will not ripen anymore after they are refrigerated.
How to use apricots
Use apricots as you would peaches in any of your favorite baked desserts or toss them with spinach, blue cheese and almonds for a perfect summer salad. Or, for a fun way to kick off the beginning of the warm weather season, make this simple apricot puree. The puree can be used in one of these three delicious cocktail recipes, or for whatever your imagination comes up with.
Simple apricot puree recipe
Ingredients:
8 apricots, pitted and diced
2 tablespoons lemon juice
2 teaspoons sugar
Directions:
Place all ingredients in a food processor and process until smooth.
Press the pureed mixture through a fine sieve, discarding the leftover solids.
Apricot bellini
This is a fun, seasonal take on the traditional mimosa to serve at your next summertime brunch soiree.
Ingredients:
2 tablespoons apricot puree
Chilled sparkling wine
Directions:
Place the apricot puree in the bottom of a Champagne flute.
Fill the remainder of the glass with the sparkling wine. Serve immediately.
Apricot bourbon cocktail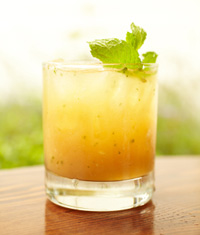 Ingredients:
2 ounces bourbon
1 ounce apricot puree
1/4 ounce lemon juice
3 fresh mint leaves
Directions:
Combine the bourbon, apricot puree and lemon juice in a cocktail shaker over ice. Tear the mint with your hands and add to the shaker.
Shake vigorously until everything is incorporated and strain into a rocks glass filled with ice. Garnish with extra mint if desired.
The Crazy Jane
This cocktail is currently the most popular drink at Home Restaurant in New York City. People love the earthy rosemary juxtaposed with fresh, fragrant apricots.
Ingredients:
1-1/2 ounces rosemary-infused vodka (recipe below)
1/2 ounce apricot puree
1/2 ounce simple syrup
1/4 ounce fresh lime juice
Lime wedge for garnish
Directions:
Combine all ingredients, except for the lime wedge, in a cocktail shaker over ice. Shake vigorously.
Strain into a rocks glass filled with ice and garnish with the lime wedge.
Rosemary-infused vodka
Ingredients:
2 cups vodka
2 bunches fresh rosemary
Directions:
Place the rosemary in a quart-sized Mason jar or other glass container. Pour in the vodka and seal the top of the jar. Place in a cool, dry place and allow to infuse for 24 to 36 hours.
Strain the mixture and discard the rosemary. Store in a clean glass bottle or jar for up to three weeks.
More fresh apricot recipes
Fresh apricot marinade
Apricot and cream cheese coffeecake
Apricot goat cheese bruschetta