A Delicious And Unique Dinner Idea
Different textures and flavors make this hearty dish truly unique. A bit sweet with a hint of spice, it's perfect served over rice. Made in the slow cooker, it's ideal for a busy day when you don't have time to cook.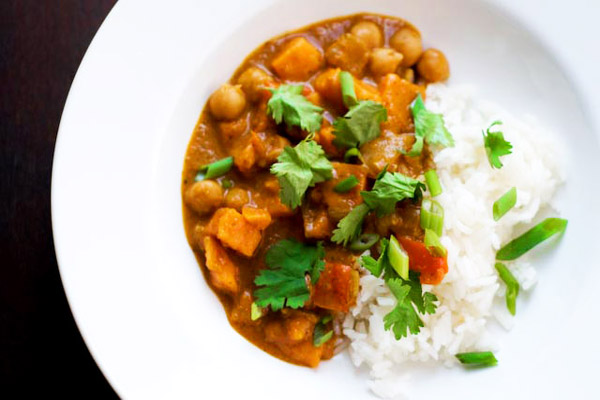 Althought the ingredients list may have you asking yourself if this is really something you want to try, I say yes, yes it is. The flavors really come together after cooking in the slow cooker, making the dish rich and velvety. If you asked me what it tasted like, I would tell you something along the lines of a Thai peanut dish. It has a hearty, warm flavor with a bit of sweetness and a hint of spice. Give this one a shot on a busy night and you'll be pleasantly surprised.
Slow cooker African peanut stew recipe
Serves 4-6
Ingredients:
3–4 garlic cloves
1 cup loosely packed fresh cilantro leaves and stems
1 (14.5 ounce) can diced tomatoes
2 inch or so chunk of fresh ginger, peeled
2 heaping tablespoons peanut butter (creamy or chunky, I used creamy)
1 teaspoon ground cumin
1/2 teaspoon ground cinnamon
1/4 teaspoon ground red pepper (cayenne)
1 tablespoon curry powder
1/4 cup dark brown sugar (light brown is just fine, too)
3/4 teaspoon salt
Fresh ground pepper
1 (14.5 ounce) can lite coconut milk
2 good-sized sweet potatoes, peeled and chopped into bite-sized pieces
1 large sweet onion, chopped
1 large red bell pepper, or 2 small ones, chopped
1 (15-19 ounces) can garbanzo beans, rinsed and drained
Directions:
In a blender or food processor add garlic cloves, cilantro, ginger, tomatoes, peanut butter, cumin, cinnamon, ground red pepper and curry powder. Blend until everything is nicely pureed. It will look very thick and pasty.
In the slow cooker, add the garbanzo beans, chopped onions, red bell peppers, and sweet potatoes. Add the peanut sauce mixture, brown sugar and the coconut milk and gently stir to incorporate all of the ingredients.
Turn the slow cooker on low and cook for six to eight hours Serve with rice and top with fresh cilantro and sliced green onions.
More slow cooker ideas
Slow cooker spicy cajun gumbo
Slow cooker French onion soup
Slow cooker minestrone soup