Cool Cocktails Perfect To Celebrate Summer!
Although the first day of summer isn't technically until June 20 this year, Memorial Day is the unofficial start of summer for many people, myself included. It's the first, warm long weekend of the season and has many people digging out their grills, lawn furniture and bathing suits. To kick off the season and get your Memorial Day barbecue movin', whip up these deliciously cool and refreshing cocktails.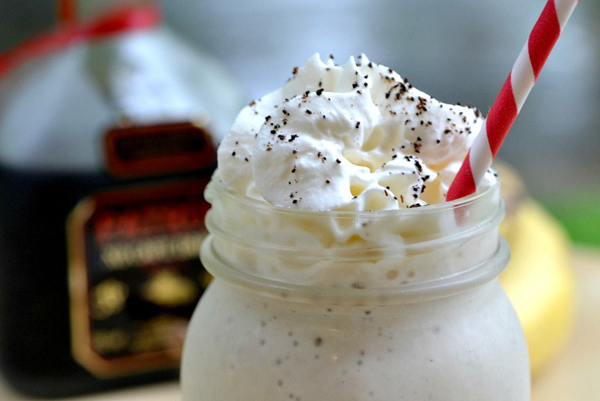 Each of these cool drinks pairs perfectly with barbecue foods, like hamburgers, chicken and potato salad and those cute little paper umbrellas you find on vacations. Don't let looks be too deceiving though. Just a few of these boozy delights could lead to some embarrassing skinny-dipping moments. And trust me, no one wants to see hairy Uncle Leo in the nude.
Boozy banana split milkshake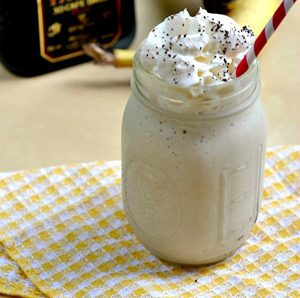 Adapted from Pinch My Salt
Serves about 2
Ingredients: 
2 frozen bananas, chopped
1 cup light cream
1/4-1/3 cup Patron XO Cafe Dark Cocoa
1 teaspoon vanilla extract
2 tablespoons sugar
1/3 cup whipped cream plus 1 tablespoon
Directions: 
Place bananas, light cream, Patron, vanilla and 1/3 cup whipped cream in a blender.
Blend on low until smooth and thick.
Garnish with extra tablespoon of whipped cream, coffee grounds or chocolate chips and enjoy!
Sparkling gin and juice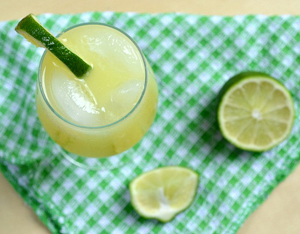 Recipe adapted from My Recipes
Serves 2
Ingredients: 
1/4 cup gin
2 tablespoons lemonade concentrate (I used Crystal Light)
2/3 cup Champagne
1 teaspoon freshly squeezed lime juice
Lime wedges for garnish
Directions: 
In a small pitcher, mix gin and lemonade until fully mixed. Add in lime juice.
Top mixture off with Champagne and mix lightly.
Serve with fresh lime wedges over ice and enjoy!
Upside down pomegranate sunrise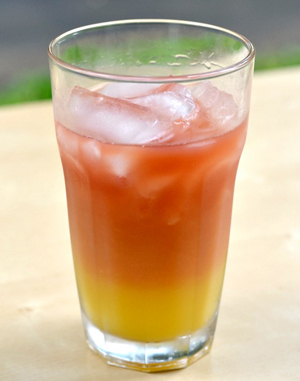 Recipe adapted from All Recipes
Serves 2
Ingredients: 
3 ounces pomegranate-infused tequila
1 cup orange juice
Ice cubes
Maraschino cherry for garnish
Directions: 
In a large glass, pour orange juice over ice. Slowly add in the pomegranate tequila and lightly mix. The red will stay mostly on the top but will trickle down to the bottom like a lava lamp!
Garnish with a cherry or chunk of pineapple and enjoy!
The Latin lover

Recipe and photo provided by Voli Vodka
Serves 1
Ingredients: 
1-1/2 ounces Voli Orange Vanilla vodka
2 ounces low-sugar lemonade
1/2 ounce agave nectar
1/2 ounce low-sugar pineapple juice
Ice
Directions: 
In a chilled martini mixer filled halfway with ice, add vodka, lemonade, agave nectar and pineapple juice. Shake vigorously. Strain mixture into a chilled martini glass and garnish with fresh lemon peel and enjoy!
More summer cocktail recipes
Trendy summer cocktail recipes
Summer cocktails with tequila
Refreshing summer cocktails