(page 3 of 3)
National Eat What You Want Day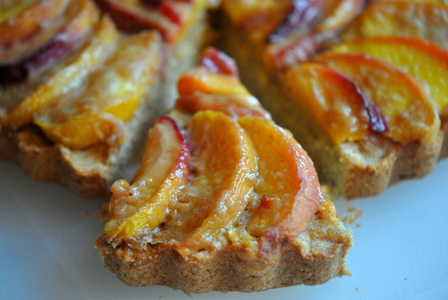 For me, National Eat What You Want Day is actually two days — May 11 and my birthday. Two full days when calories just don't exist and you indulge in foods you want, love and that provide complete satisfaction without the guilt.
Here's your chance to overload on calories
One day isn't going to derail your entire diet as long as you get back on track the following day.
Homemade peach tart recipe
Ingredients:
Cornmeal crust:
9 tablespoons unsalted butter, softened
1/2 cup sugar
1 large egg
1 large egg yolk
1/8 teaspoon almond extract (I love it, so I added a bit more)
1-1/2 cups flour
1/2 cup ground cornmeal or polenta
1/2 teaspoon sea salt
2 teaspoons baking powder
1/2 teaspoon cinnamon
1/2 teaspoon nutmeg
Peach topping:
1/3 cup all-purpose flour
1/2 teaspoon ground ginger
1/4 teaspoon ground nutmeg
3/4 cup sugar
4 peaches, thinly sliced
Directions:
Cook's Note: This tart recipe has a very thick crust, if you want a thinner crust just use less of the crust and save the rest in the freezer for the next tart you make. If you do make a thinner crust, when you prebake the crust (before topping it with peaches) just do it for 4-5 minutes instead of the suggested 7-10.

Preheat oven to 375 degrees F. Beat together butter and sugar. Slowly mix in the egg, yolk and almond extract.
In a separate bowl, whisk together the flour, cornmeal, salt, baking powder, cinnamon and nutmeg. Gradually add the dry ingredients to the wet, until the mixture just comes together. Drop dough (it will be slightly crumbly) on plastic wrap and wrap up into a ball — place in fridge until chilled.
Rinse the peaches and gently dry, cut each one in half, discarding the pits. Slice the fruit into wedges about 1/2-inch thick.
In a large bowl, combine the flour, ginger, nutmeg and 3/4 cup of the sugar. Add in the peaches and gently mix.
Remove the dough from the refrigerator and soften just slightly. With your hand, press the dough into the bottom and sides of an ungreased removable bottom tart pan or springform pan, patting it evenly.
Bake the pastry for seven minutes, so it is cooked just a little before placing peach mixture on top.
Nicely arrange the peaches on top of the crust.
Cook for 20-25 more minutes (peaches will be bubbling on top).
Tell us
Will you celebrate National Eat What You Want Day? Tell us what recipes are on your menu in the comments below!
More ways to indulge
Shamrock shake recipe
Make your own twinkies
Homemade Oreo ice cream cake