May Is Mediterranean Diet Month!
The Mediterranean diet is among the world's healthiest, so venture out and take a trip to the Greek Isles! With bold, fresh flavors, these quick-and-easy recipes have a strong emphasis on fruits and vegetables. If you're on the lookout for a healthy diet, Greek food is the perfect addition.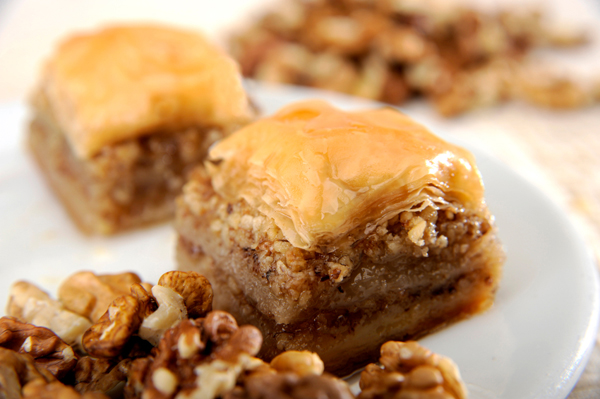 Go Greek with these three delicious sweet-and-savory dishes. Greek cuisine isn't just good for you, it's delicious! Get out of your comfort zone and cook up a few of these heart-healthy dishes and serve to friends and family.
Healthy and easy Mediterranean dishes
Greek cuisine is a wonderful choice for its vibrant colors and healthy cooking techniques. Enjoy this simple meal outside with a glass of Greek wine.
These Mediterranean dishes are simple and flavorful and fresh ingredients, perfect if you want to lower your cholesterol and if you have high blood pressure. This collection of dishes features recipes that evoke Mediterranean cuisine.
Walnut baklava recipe
Yields 25
Ingredients:
1/2 package of frozen phyllo dough, thawed
2 cups walnuts, finely chopped
1/8 cup sugar
2 teaspoons ground cinnamon
1 stick butter, melted
Syrup:
1/2 cup sugar
1/4 cup water
1/8 cup honey
1 teaspoon lemon juice
1 teaspoon vanilla extract
Directions:
In a small bowl, combine chopped walnuts, sugar and cinnamon and set aside. Grease a 13 x 9-inch baking dish with some butter. Unroll the sheets of phyllo dough.
Place a sheet of phyllo in the baking dish and brush with butter. Top with a second sheet and brush with butter. Fold the long ends under to fit the size of your dish. Sprinkle with about 1/8 cup of the walnut mixture. Repeat layering about 9-10 times. Top with dough and brush with butter. Cut into 2-inch squares or preferred shape.
Bake at 350 degrees F for 50-55 minutes or until golden brown. While baking, in a small saucepan, combine the sugar, water, honey, lemon juice and vanilla. Bring to a boil, reduce heat and simmer, uncovered, for about 8-10 minutes. Pour syrup over the warm baklava. Cool on a rack.
Cold tomato & yogurt soup recipe
Serves 6
Ingredients:
2 tablespoons olive oil
1 cup onions, chopped
2 garlic cloves, chopped
4 cups tomatoes, peeled, seeded and chopped
2 cups vegetable broth
4 sun-dried tomatoes packed in olive oil, chopped
1 teaspoon fresh thyme, chopped
2 teaspoons fresh chives, chopped
1 tablespoon honey
1 cup plain Greek yogurt
Salt and pepper, to taste
Directions:
Heat a large pot on medium. Add chopped onions and garlic and cook for five minutes, until soft. Add the chopped tomatoes and cook down for 8-10 minutes. Add the vegetable broth, sun-dried tomatoes, herbs and honey. Bring to a boil, then simmer for about 15 minutes. Then allow to cool.
Using a hand blender, puree the soup until nice and creamy. Season with salt and pepper, then mix in yogurt. Serve hot or cold.
Pan-fried sardines and garlic recipe
Serves 4
Ingredients:
8 sardines, gutted and butterflied
4 tablespoons olive oil
4 tablespoons flour
1/2 bunch fresh parsley, chopped
4 garlic cloves, sliced
Salt and pepper, to taste
1 lemon, cut into wedges
Directions:
On a large plate mix flour, half of the chopped parsley and season with salt and pepper. Coat each sardine in the flour mixture.
Over high heat in a large frying pan, add olive oil then cook sliced garlic cloves for about a minute. Add sardines to the pan (in batches if needed) and cook for a minute on each side until golden brown. Serve the sardines with a squeeze of lemon, fresh parsley and the fried garlic.
More Greek recipes
Greek salad with tomatoes, olives and feta recipe
Greek style roast chicken recipe
Greek bean and tomato casserole recipes