(page 3 of 3)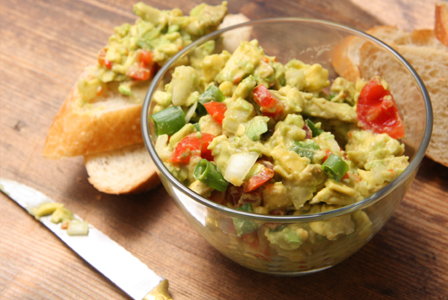 It's easy to please just about everyone on Cinco de Mayo. Just take a look at these SheKnows recipes, perfect for any Cinco de Mayo occasion.
Everyone celebrate!
Perfect for those who know how to party
If you're ready to celebrate Cinco de Mayo with your friends, you'll want to think about these recipes that pair perfectly with cervezas, margaritas and sparkling water (for the DD).
Thick and chunky guacamole recipe
You'll want to lay it on thick after you take a taste of this smooth and delicious dip. So good, you can slather it on just about anything you can get your hands on, from tacos, to chips to fajitas. Hide the spoons!
Yields 4 cups
Ingredients:
4 medium, ripe avocados, peeled, chopped
1/2 cup chopped fresh cilantro
2 medium (1 cup) onions, chopped
2 medium (1 cup) tomatoes, seeded, chopped
1 (4-ounce) can diced green chilies
2 tablespoons lime juice
1 teaspoon salt
2 teaspoons chopped jalapeños
Directions:
Put the avocado in a medium-sized bowl and mash with a fork until creamy but with some texture.
Add the cilantro, onions, tomatoes, chilies, lime juice, salt and jalapeños, and stir to combine.
Cover the bowl and place in the refrigerator for one hour before serving.
Margarita fruit salad recipe
Olé! The details are in the dressing of this tasty fruit salad. You probably won't have leftovers since the dressing tastes just like a margarita. Yum!
Serves 6-8
Ingredients:
For the tequila orange liqueur dressing:
3 tablespoons tequila
3 tablespoons orange-flavored liqueur (Triple Sec, Cointreau or Grand Marnier)
3 tablespoons orange marmalade
Juice of 1 lime, approximately 2 tablespoons
For the fruit salad:
4 cups fresh strawberries, sliced
4 oranges, peeled, sectioned, and cut in small pieces
1 small honeydew melon, rind and seeds removed, and cut in small pieces
1 small cantaloupe melon, rind and seeds removed and cut in small pieces
Directions:
Whisk together all the dressing ingredients and chill until you're ready to toss your salad.
As the dressing is chilling, prepare your fruit and place it in a large serving bowl.
When you're ready to serve it, toss it with the dressing.
Brie and mango quesadilla recipe
This appetizer has "beach" written all over it! Stuffed with fresh ingredients, this is easy to make and perfect for the party crowd, whether your guests are enjoying sangria or sipping a cerveza!
Yields 16-20
Ingredients:
3 tablespoons butter
1 mango, thinly sliced
1 small red onion, thinly sliced
1/2 pound sliced Brie cheese
4 flour tortillas
Cumin to taste
Avocado and cilantro as garnish
Directions:
Melt the butter in a large skillet. Layer the mango, red onion and Brie on half of one side of each tortilla. Fold over tortilla.
Saute until the cheese is melted and the tortilla is golden brown. Sprinkle the outside of the tortilla with cumin while it's browning.
Garnish with avocado slices and cilantro. Cut into four to six slices. Serve warm.
Wouldn't it be great if we could celebrate Cinco de Mayo more than once a year? Enjoy this season!
More Cinco de Mayo recipes to try
Fiesta food and drink
Cinco de Mayo piñata cookies
Beefy Mexican cornbread