(page 2 of 3)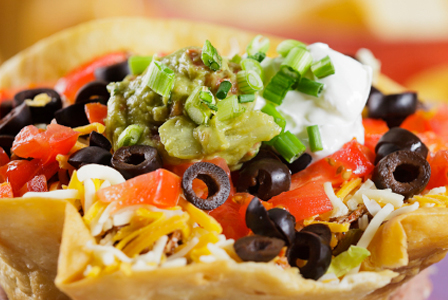 It's easy to please just about everyone on Cinco de Mayo. Just take a look at these SheKnows recipes, perfect for any Cinco de Mayo occasion.
Everyone celebrate!
Perfect for the office or neighborhood potluck
If you need to take your Mexican-inspired meals on the road to reach your fiesta destination, whether that's the office potluck or a neighborhood gathering, these tasty dishes travel well.
Southwestern layered bean dip recipe
This is a crowd-pleasing party favorite that you can serve with baked tortilla chips. It's easy to put together ahead of time, then add the final touches when you reach your destination, be it a pot luck or a Cinco de Mayo party — all you need is a microwave to finish it.
Serves 6
Ingredients:
1 (16 ounce) can spicy refried beans
1 (15 ounce) can black beans, rinsed
4 scallions, sliced
1/2 cup prepared salsa
1/2 teaspoon ground cumin
1/2 teaspoon chili powder
1/4 cup pickled jalapeño slices, chopped
1 cup shredded Monterey Jack cheese
1/2 cup reduced-fat sour cream
1-1/2 cups chopped romaine lettuce
1 medium tomato, chopped
1 medium avocado, chopped
1/4 cup canned sliced black olives
Directions:
Place the refried beans, black beans, scallions, salsa, cumin, chili powder and jalapeños in a large bowl and toss to combine.
Transfer the bean mixture to a microwave-safe bowl and sprinkle evenly with the Monterey Jack cheese.
Place in microwave and heat on high for about four minutes; the cheese will have melted and the beans will be warm.
Evenly spread the sour cream on top of the beans and then top with the lettuce, tomato, avocado and olives. Serve immediately.
One dish wonder tamale pie recipe
It's a special occasion, which makes it perfect for tamale pie. Good thing this recipe isn't as labor intensive as making individual tamales. You'll have even more time to celebrate with your co-workers!
Serves 6
Ingredients:
1-1/2 pounds ground beef
1 cup onions, chopped
2 cloves garlic, chopped
2 cups enchilada sauce
1 cup whole kernel corn
1 (2.25 ounces) can ripe olives, sliced
2 teaspoons salt
2 cups water
2-1/4 cups yellow cornmeal
1 (12 ounce) can evaporated milk
1 (4 ounce) can green chilies, diced
1/2 cup cheddar cheese, shredded
2 tablespoons pickled jalapeños, sliced
Directions:
For the filling:
Cook beef, onion and garlic in a large skillet until beef is browned; drain.
Stir in enchilada sauce, corn, olives and half the salt.
For the crust:
Preheat oven to 425 degrees F. Grease a 12 x 8-inch baking dish.
Combine cornmeal, water, evaporated milk and remaining salt in a medium saucepan. Cook over medium-high heat, stirring frequently, for five to seven minutes or until thickened.
Stir in chilies. Reserve two cups cornmeal mixture; cover with plastic wrap.
Spread remaining cornmeal mixture on bottom and up sides of prepared baking dish.
Bake for 10 minutes. Cool in dish on wire rack.
Spoon beef filling into cornmeal crust. Spread reserved cornmeal mixture over beef filling.
Bake for 15 to 20 minutes. Sprinkle with cheese.
Bake for additional 5 to 10 minutes or until cheese is melted. Garnish with jalapeños.
Mexican coleslaw with pecans recipe
Healthy and colorful, this Mexican coleslaw is perfect to serve to co-workers or neighbors. Simply keep the salad chilled until you're ready to serve, then delight the crowd!
Serves 4
Ingredients:
6 cups very thinly sliced green or purple cabbage (about 1/2 head)
1-1/2 cups peeled and grated carrots (2-3 medium)
1/3 cup chopped cilantro
1/4 cup rice vinegar
2 tablespoons extra-virgin olive oil
1/4 teaspoon salt
1/4 cup toasted pecans, roughly chopped
Directions:
Put the cabbage and the carrots in a medium-sized salad bowl and toss to combine.
In a small bowl, mix the cilantro, vinegar, oil and salt together with a whisk and then add to the cabbage mixture. Toss to combine.
Sprinkle in the toasted pecans and toss once more. Serve immediately.
Next page: Recipes that are perfect for a party on the wild side >>