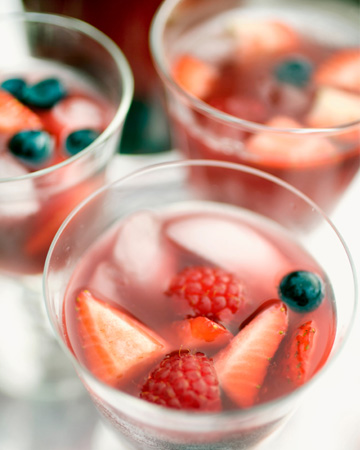 Celebrate spring with a toast
May Day, a traditional holiday to honor spring, is perfect for a celebration with family and friends. A special drink for your May Day party would only be appropriate, so celebrate the warm weather with a delicious and refreshing punch.
This flavorful wine punch represents sunshine, fresh fruit and flowers in bloom, something we're all hoping to see more of now that the cold winter months are over.
Spend May Day outdoors and live it up with this beautiful punch adorned with flower petals. Spiced with a vanilla bean and sweetened with fresh strawberries and sugar, this drink is perfect to enjoy in the garden.
May Day strawberry punch recipe
Serves 10
Ingredients:
2 pints strawberries, hulled and chopped
1 pint blueberries
1 vanilla bean, sliced
1 bottle dry white wine
1 bottle Champagne
1 cup sugar
Rose or preferred flower petals for decoration
Directions:
In a bowl, mash half of the chopped strawberries and blueberries with sugar. Pour wine over the mixture, add vanilla bean and stir well. Cover and refrigerate for about eight hours and strain. Pour the liquid into a punch bowl over ice and add remaining berries, Champagne and flower petals. Serve chilled.
Other flavor combinations:
Add peaches, blueberries and raspberries
Add mango, pineapple and kiwi
Add apples, orange slices and lime slices
Add red wine and soda water instead of white wine and Champagne
Try with a crisp rose wine
For a healthier version, use less sugar and opt for a sweeter wine or sweeter fruits instead
Quick tip
Freeze some of your fruits and then add them to the punch. It will stay cold without getting watered down by ice cubes. Frozen grapes make the perfect ice cube.
More punch recipes