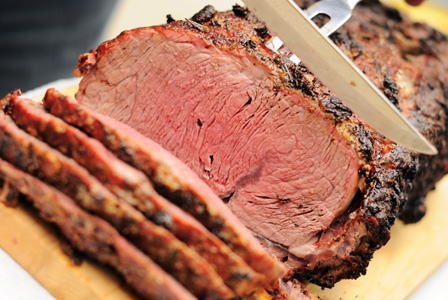 These days, it seems like everything has a day. Prime rib is no exception. Celebrate National Prime Rib Day on April 27 with your favorite preparation -- in the oven or on the grill. And with these tasty recipes, you'll want to make sure there are leftovers.
2 Ways to maximize prime rib leftovers
All carnivores love sinking their teeth into a juicy cut of prime rib, but (especially if you're cooking for two) there are often leftovers after you factor in the customary potatoes and veggies. Instead of eating the same reheated meal at lunch the next day, try these creative ways to enjoy that leftover prime rib.
Prime rib Caesar salad recipe
Serves 1 - 2
Ingredients: 
5 leaves romaine lettuce, chopped
2 small slices (or one large slice) prime rib leftovers, cut into strips and reheated
16 croutons
Parmesan cheese to taste
Caesar salad dressing to taste (recipe to follow)
Salt and pepper to taste
Directions:
Toss lettuce, cheese, dressing, salt and pepper in a large bowl.
Place salad onto one large plate (for a meal for one) or two small plates (as a side salad for two).
Top with prime rib (and extra Parmesan cheese if desired).
Caesar dressing recipe
Ingredients:
2 tablespoons Parmesan cheese, grated
1 anchovy fillet
1 egg yolk
2 - 3 tablespoons lemon juice
1 teaspoon lemon zest
2 tablespoons high-quality extra virgin olive oil
1/2 clove garlic
Directions:
In a blender (or using an emersion blender in a bowl), mix the egg yolk, garlic and anchovy to create a paste.
Add all other ingredients except olive oil and mix for a few seconds to combine.
Slowly add the olive oil while the blender is on low until the dressing is combined and creamy (add extra olive oil for a thinner dressing).
Store leftover dressing in the refrigerator for up to three days.
Zesty prime rib sandwich recipe
Ingredients:
1 slice leftover prime rib, sliced into strips and reheated
2 slices ciabatta or other rustic bread
1 leaf romaine lettuce (or arugula for the more daring)
3 slices roma tomato
1 slice medium cheddar cheese (optional)
1 to 2 tablespoons creamy horseradish sauce (recipe to follow)
Directions:
Place the cheese (if desired), prime rib, lettuce and tomato on one slice of bread.
Top with creamy horseradish sauce and place the other slice on top.
Cut into two slices and serve.
Creamy horseradish sauce recipe
Ingredients:
1/3 cup high-quality mayonnaise (not salad dressing)
1/3 tablespoon white vinegar
1-1/4 teaspoons sugar
2 teaspoons prepared horseradish
Directions:
In a small bowl, dissolve the sugar and salt into the vinegar.
Add mayonnaise, horseradish and then the vinegar solution into a blender and blend on medium for about 10 or 15 seconds, until smooth and creamy.
Chill in a covered container for at least two hours.
Store leftovers for up to two weeks.
More prime rib recipes
Herb and garlic-rubbed prime rib recipe
Rosemary horseradish prime rib
Prime rib with creamy horseradish sauce