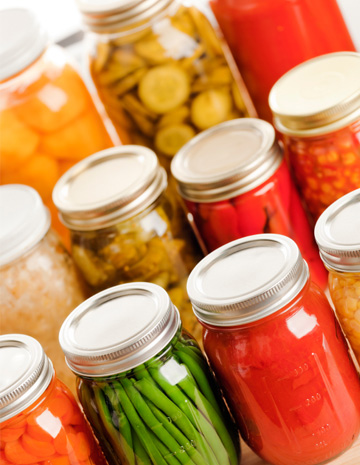 The ABC's of quick pickling
Cucumbers aren't the only game in town when it comes to pickles. Try some of these other vegetables for a tart and tangy addition to your meals.
When vegetables are plentiful at the farmers markets, it's always tempting to buy armloads at a time. But then you get home and are faced with overflowing produce bins. It's time to get to pickling! With a quick pickling recipe, there's no need to wait weeks for your pickles… you can enjoy them with tonight's dinner.
Basic quick pickling liquid recipe
Ingredients:
2 cups white vinegar
1 cup water
2 tablespoons sugar
2 tablespoons salt
Directions:
Combine all ingredients (including any flavor additions below) in a saucepan and bring to a boil until sugar is dissolved.
Remove from heat and let cool slightly so the liquid does not cook the vegetables. Pour pickling liquid into glass jars over vegetables, seal and reserve.
If using in under an hour, jars can sit out at room temperature. Otherwise, refrigerate for up to a week. The pickled flavor will get stronger the longer the vegetables sit.
Flavor additions
You can customize your pickles any way you want to by enhancing the basic recipe. Try a few of these additions for a twist on the traditional pickle flavor.
Substitute a different vinegar. Try cider vinegar, rice vinegar or red wine vinegar for extra tang.
Add whole peppercorns, whole peeled garlic cloves, coriander seeds, mustard seeds or dill seeds for a big boost in flavor.
Add hot sauce, red pepper flakes, fresh chopped jalapenos or other chili peppers for spice.
Add whole cloves, cinnamon sticks or whole allspice for hints of baking spice.
In a pickle
Onions, carrots, cauliflower, celery, sweet or hot peppers, asparagus, green beans or zucchini all make great pickled vegetables. Experiment with what's in your produce bin… you never know what you might stumble upon!
Some things are quicker to pickle than others. Thinly sliced onion will go much faster than whole carrots, so if you're in a hurry to use your pickled veggies, keep pieces smaller and sliced thin.
Besides eating your pickled vegetables straight out of the jar, you'll find plenty of other ways to use them. They also make perfect tangy additions to burgers, sandwiches and tacos or add a little pizzazz to an antipasto platter. Any way you serve them, they're sure to be a hit!
Still craving a traditional cucumber pickle? Try this recipe for dill pickles >>
More on pickles
Chinese style gingery sweet pickled vegetables
The joy of pickling
A recipe for DIY pickles