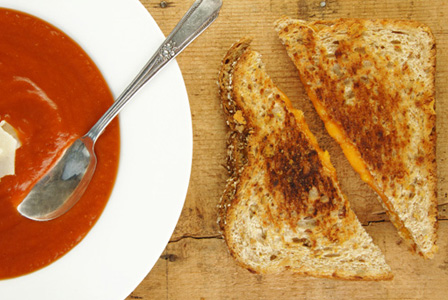 If you're a sandwich lover, the grilled cheese is no stranger. But with a few flavorful additions, your basic cheese sandwich will be turned into a gourmet affair.
It's Grilled Cheese Sandwich Month
April is Grilled Cheese Sandwich Month and today is National Grilled Cheese Day! With all the artisanal cheese and bread at our fingertips these days, throwing a slice of processed cheese on white bread just doesn't cut it anymore. The possibilities are endless for the mouth-watering sandwiches you can cook up by combining different cheeses, meats, condiments or even roasted vegetables.
Basic grilled cheese sandwich recipe
Use this method as a starting point for your own gourmet grilled cheese creation.
Makes 1
Ingredients:
2 slices French bread, about 1/2-inch thick
Sliced cheese
Unsalted butter, softened
Directions:
Layer desired amount of cheese on one slice of bread. Lay the other slice of bread on top of cheese. Liberally spread top of bread with butter, and then flip sandwich over and spread butter on other side.
Heat a nonstick pan over medium heat. When hot, place sandwich in pan. Let cook until bottom of bread is golden brown and crisp. Turn sandwich over and repeat for other side.
Notes: Cook sandwich slowly to ensure the cheese will melt completely. When adding other ingredients into sandwich, place cheese on both sides of the bread to ensure the sandwich holds together better when cooked.
Philly cheese steak grilled cheese sandwich recipe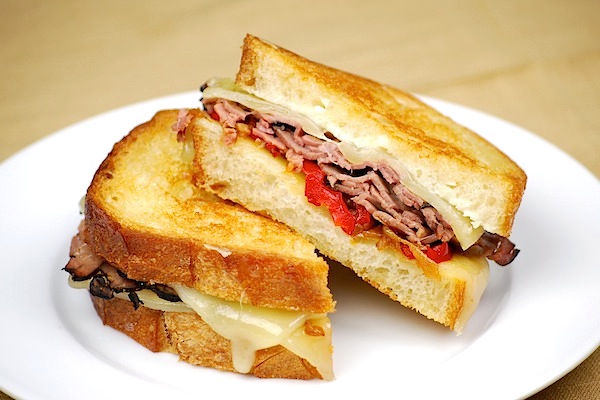 A twist on the classic Philly sandwich.
Using the basic grilled cheese sandwich recipe above, construct the sandwich using the following:
Sliced Swiss cheese
Roast beef
Caramelized onions and red bell peppers*
Mayonnaise
*Caramelize onions and peppers by thinly slicing and cooking in a drizzle of oil over low heat until browned.
Spicy Southwestern bacon grilled cheese sandwich recipe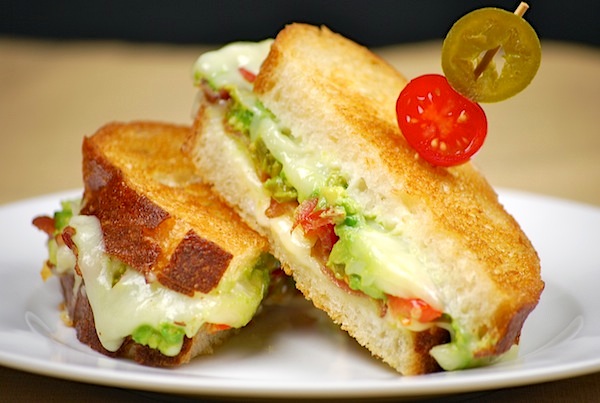 Like a BLT, only better. Pickled jalapenos and creamy avocado put this grilled cheese over the top.
Using the basic grilled cheese sandwich recipe above, construct the sandwich using the following:
Sliced Monterey Jack cheese
Cooked bacon
Mashed avocado
Chopped pickled jalapenos
Chopped tomatoes
Mayonnaise
Apple, fig and Gruyere grilled cheese sandwich recipe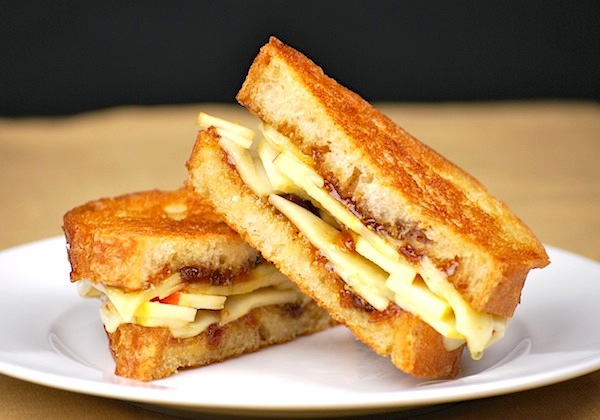 You almost feel like you're eating dessert for lunch with this sweetened up version of a grilled cheese.
Using the basic grilled cheese sandwich recipe above, construct the sandwich using the following:
Sliced Gruyere cheese
Thinly sliced apple
Fig jam
More sandwich ideas
Hot sandwiches they'll love
5 Super sandwich suppers
6 Sandwich shortcuts for busy moms