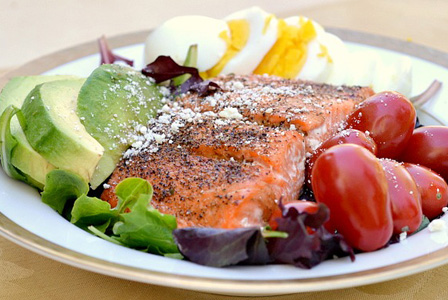 Now that Easter is over, there's a pretty strong chance you're still finding that green plastic grass everywhere, candy wrappers stuffed under your couch cushions and a fridge full of multicolored hard-boiled eggs.
Delicious uses for leftover Easter eggs
As tasty as hard-boiled eggs are, there are only so many you can eat before you want to gag. Plus, with the short shelf life, it's either eat them in one sitting Gaston style, or toss them. Since I'm not a fan of either option, I've made three tasty and unique recipes for all of those leftover eggs.
A delicious homemade pizza with gorgonzola cheese and bacon, a tangy vinaigrette and salmon salad and some delightfully spicy deviled eggs are the perfect solution to your abundance of eggs. As for the candy and grass clean-up? I suggest leaving that to your husband while you shop, drink or get a massage. That's what they are for, right?
Salmon salad recipe with homemade balsamic vinaigrette
Serves 2
Ingredients:
8 ounces cooked organic salmon fillet
3 cups mixed salad greens
2 hard-boiled eggs, sliced
1 large tomato, sliced
2 ounces goat cheese
Croutons (*optional)
For the dressing:
1/4 cup balsamic vinegar
1 teaspoon brown sugar
1 tablespoon garlic, chopped
Dashes of salt and pepper
3/4 cup olive oil
Directions:
Prepare the dressing by whisking the vinegar in a bowl with sugar, garlic and salt and pepper until it dissolves. Add in the oil until it's fully mixed and add additional salt to taste.
Prepare salad by mixing all the ingredients together (except the salmon, cheese and croutons). Slice the salmon into two pieces, remove the bottom scales and bones and place on top of the mixed salad. Sprinkle cheese and croutons on top. Drizzle with dressing and enjoy!
Egg, bacon and gorgonzola pizza recipe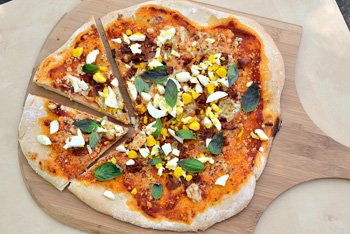 Serves 8
Ingredients:
For the dough:
1 (1/4 ounce) container dry yeast
1 tablespoon sugar
1 cup warm water (110 degrees F)
3 cups flour
1 tablespoon olive oil
Salt and pepper
For the topping:
2/3 cup pizza sauce
2 hard-boiled eggs, chopped
4 pieces bacon, chopped
3-1/2 ounces gorgonzola cheese
Fresh basil leaves, chopped
Directions:
Mix the yeast, sugar and warm water together in a shallow bowl and let rise for about 10 minutes (or until bubbly). Mix yeast with the flour, salt and olive oil until a dough forms. Put dough on a lightly floured surface and knead for 10 minutes or until elastic. Using a floured rolling pin, roll dough out to about 1/4-inch and place on a pizza pan.
Preheat oven to 425 degrees F. Cover the dough with sauce. Top with cheese and bacon. Bake for 15 minutes, or until crust is gold brown and cheese is melted. Add hard-boiled eggs and basil leaves and enjoy!
Not your mama's deviled egg recipe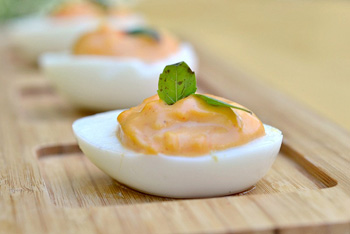 Yields 10
Ingredients:
10 hard-boiled eggs
6 tablespoons mayo
2-3/4 tablespoons Sriracha
Dashes of salt and pepper
Fresh basil leaves to taste
Directions:
Let eggs cool completely before you peel. Once cooled, carefully peel the shell off. Cut eggs in half, vertically, and carefully remove the yolk. Place yolks in a large bowl and set egg whites aside. Repeat until all egg yolks have been removed.
Mix yolks, mayo, Sriracha and salt and pepper together. Add additional salt and pepper to taste. Scoop egg yolk mixture into the hollowed holes of the egg whites. Garnish with fresh basil leaves.
Let chill for 30 minutes, and then enjoy!
More ways to use up your leftovers
Cobb salad recipe
Leftover Easter candy brownies recipe
How to use up your Easter leftovers