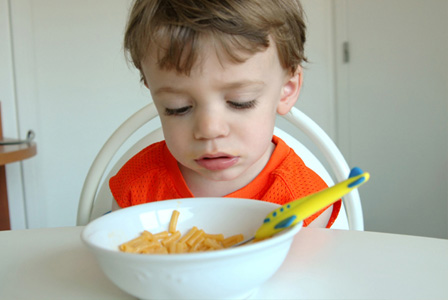 Children with autism spectrum disorders often have symptoms that lead to picky eating or difficulty eating certain foods.
Simple, nutritious
meal ideas
Many ASD kids also have sensory processing disorder. Between rigid routines and preferences for certain textures and temperatures of food, it can be difficult to plan meals for children with autism. Discover simple recipes to please picky eaters.
Toddlers are notoriously picky eaters. When a toddler or young child has been diagnosed with an autism spectrum disorder, the picky eating can get downright epic. No child can live on french fries alone, so parents of kids with autism are often faced with battles when introducing new foods and new tastes. Every child with autism is different. Some may struggle with hot or cold foods, while others may prefer certain colors, textures or may be very rigid when it comes to the routines around mealtime.
Banana and avocado smoothie recipe
Ingredients:
1 banana, peeled and frozen
1/2 ripe avocado, peeled and pitted
1-2 tablespoons coconut butter
Water
Mashed ginger carrots recipe
Ingredients:
2 tablespoons Shedd's Spread Country Crock Spread
1/4 cup onion, chopped
1 clove garlic, chopped
1/4 teaspoon ground ginger spice
2 (14.5-ounce) cans sliced carrots, drained and warmed
1 tablespoon brown sugar, firmly packed
2 tablespoons fresh coriander, chopped
Pumpkin zucchini bread recipe
Ingredients:
3 eggs
2 cups sugar
1 cup canned pumpkin
1 cup butter, melted
1 tablespoon vanilla
3 cups flour
1 teaspoon baking soda
1/2 teaspoon baking powder
1/2 teaspoon salt
1/2 teaspoon cinnamon
1/2 teaspoon nutmeg
1 cup grated zucchini
1 cup chopped nuts
More kid-friendly recipes
Chocolate pancakes
Ham and cheese muffins
Crispy baked eggplant fries